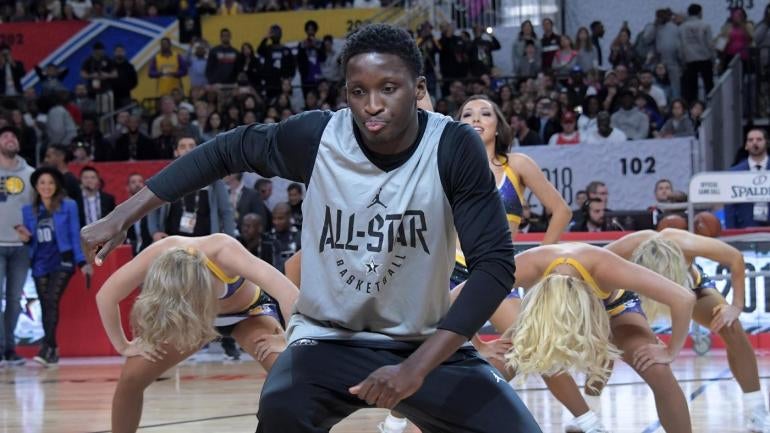 Victor Oladipo isn't just a great basketball player for the Pacers. He's also an incredibly talented singer. Over the summer he released an album called "Songs For You," and it was actually pretty solid. Better than the average athlete-turned-musician, that's for sure.
In fact, actor and musical artist, Jamie Foxx, was so impressed by the album that has one of Oladipo's songs on his phone. A profile of Oladipo, by Sports Illustrated's Lee Jenkins, says that he ran into Foxx after the Rising Stars Game. What followed was a pretty incredible moment for Oladipo:
Seven months after the trade and the pep talk, Oladipo wore Sabonis's jersey to the Rising Stars Challenge on Friday night, and he was still rocking it when he spotted Jamie Foxx in the L.A. Convention Center parking garage. Oladipo grew up in the church choir and Foxx was his idol. "Hey, I like your music!" Foxx shouted. He scrolled through his phone and called up "Song For You," the title track from the R&B album Oladipo released in October. Foxx blasted the catchy tune through his leather boombox backpack:

I've been so many places in my life and time,
Sung a lot of songs, I made some bad rhymes.
I've acted out my life in stages with 10,000 people watchin'.
We're alone now, and I'm singing this song to you.

Stunned, Oladipo burst into verse, and eventually Foxx joined him, providing backing vocals in the parking lot. On Sunday morning, when Oladipo was asked to rank his All-Star experiences, the encounter with Foxx finished first by far.
Even NBA athletes have celebrities that will leave them starstruck. Not only did Oladipo get to meet someone he looked up to growing up, but then he got to sing one of his songs with him too. That's a life highlight that he won't be forgetting anytime soon.
This wraps up a very eventful weekend for Oladipo. He participated in the Slam Dunk Contest and played in his first NBA All-Star Game as well. With the Pacers currently sitting fifth in the East, largely thanks to Oladipo's season, it will be interesting to see just how much farther his star can take him.