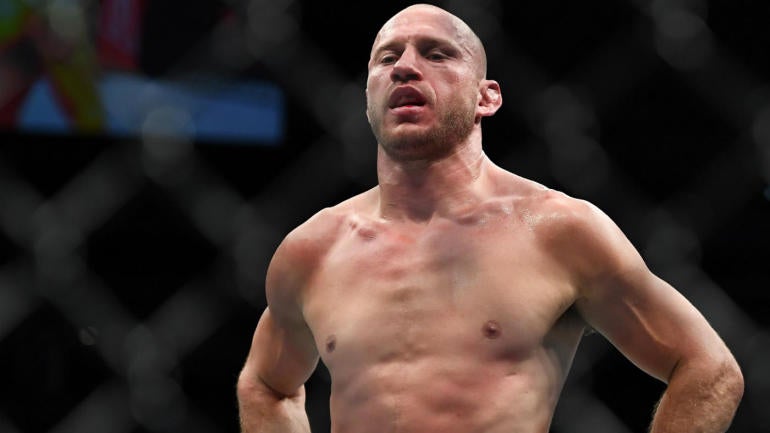 Donald "Cowboy" Cerrone has never been one to get emotional or sentimental over the meaning of a fight after competing in 43 professional bouts. 
Cerrone (32-10, 1 NC) has always been honest regarding his mission statement as a fighter and man of few words. Forget chasing glory or championship dreams, Cowboy fights simply because he loves it, and he's willing to appear in the Octagon as frequently as UFC will allow so he can cash checks and enjoy his free time. 
So if you're wondering whether the 34-year-old is stressing over his current three-fight losing streak, including two by knockout, or pondering whether a fourth defeat might question his job security, Cerrone stayed true to character entering Sunday's return.  
"Everyone asks me in interviews, they're like, 'Shoot, you're on a three-fight losing streak, how is that mentally affecting you?'" Cerrone said in January on the "UFC Unfiltered" podcast. "I'm like, 'F—! I didn't even think about it until you c—s—— brought it up.'"
Despite the recent reveal of his plan to return to lightweight after a seven-fight foray at 170 pounds, Cerrone will face Yancy Medeiros (15-4, 1 NC) in a welterweight main event at UFC Fight Night in Austin, Texas (FS1, Sunday, 9 p.m. ET). 
Cerrone claimed he accepted the fight in typical Cowboy fashion. 
"The UFC called and offered it and I said, 'Yep, OK,'" he said. 
Cerrone's commitment to staying active has, at times, come at his own detriment. After capping a 4-0 run at welterweight in 2016 with a head-kick knockout of Matt Brown in December, he returned just one month later and was stopped in two rounds by Jorge Masvidal. 
UFC forced Cerrone to take time off after the defeat. But the loss set course a losing skid which included a hard-fought decision against former champion Robbie Lawler in July and a first-round knockout against hot prospect Darren Till three months later. 
The prospect of a get-well fight against Medeiros, 30, doesn't necessarily do him any favors considering most believe this will be an absolute war. Medeiros, a native of Hawaii, was a former journeyman who fluctuated in weight until finding his stride at welterweight, where he enters with a three-fight win streak. 
"He's on a three-fight win [streak] I'm on a three-fight losing [streak]," Cerrone said. "What the f—? Somebody's streak must go."
In some ways, Medeiros is a poor man's version of Cerrone in that he comes forward in aggressive fashion and isn't immune to accumulating damage in pursuit of the finish. He's also fresh off his best win to date in December, when he finished Alex Oliveira at UFC 218 in dramatic fashion to garner fight-of-the-year consideration. 
"[Cerrone] knows that I'm going to bring a fight so I'm ready for this gun-slinging battle," Medeiros said. "I've had six wins in the UFC and five finishes. I hate decisions. I'm not looking to win a round, I'm looking to finish the guy." 
Medeiros showed an incredible warrior spirit in absorbing tremendous punishment against Oliveira without taking a step backward. Considering the questions surrounding whether Cerrone has been in one too many wars of his own, the timing of this fight couldn't be anymore dangerous for Cowboy. 
"Cowboy's most dangerous asset is his rhythm," Medeiros said. "He knows how to take people off of their rhythm and end the fight. A Hawaiian likes to groove and I'm think I've got some boogie in me and I'm going to show you guys. 
"I don't have that quit mentality. I just think that I'm hungry. I know what I want, I know what's in front of me. Cowboy has been there many times, many times but it's just my time and I'm going to show the world that I'm here. Yancy Medeiros is here."
UFC Fight Night 126 main card odds
| Favorite | Underdog | Weight Class |
| --- | --- | --- |
| Donald Cerrone (-160) | Yancy Medeiros (+130) | Welterweight |
| Marcin Tybura (-145) | Derrick Lewis (+111) | Heavyweight |
| James Vick (-250) | Francisco Trinaldo (+195) | Lightweight |
| Thiago Alves (-175) | Curtis Millender (+145) | Welterweight |
| Brandon Davis (-200) | Steven Peterson (+160) | Featherweight |
| Sage Northcutt (-300) | Thibault Goudi (+230) | Lightweight |
Prediction
Consider this opportunity a true test for Medeiros to find out whether he's the kind of dangerous action fighter who can become a regular television headliner for UFC. The Hawaiian also couldn't ask for better timing with so many questions surrounding Cerrone.
But just as Cowboy has often been a victim of his own willingness to fight on short notice and as active as his promoter will let him, Medeiros steps into the biggest fight of his career just two months removed from three hellacious rounds against Oliveira. 
Make no mistake, a loss here would be incredibly damaging for Cerrone and, despite his flippant comments, it's something that can't be lost on him. While Medeiros is dangerous, he's simply not the same class of fighter as both Cerrone and those who have defeated Cowboy over the past year. 
Medeiros' best win came against Oliveira, who Cerrone submitted in less than one round in 2016. Unless the loss to Till was a harbinger that his chin is gone, Cerrone still has enough skill and pride to rely on his technique and outclass Medeiros after navigating some rough seas in the early going. Pick: Cerrone by 2nd-round submission.