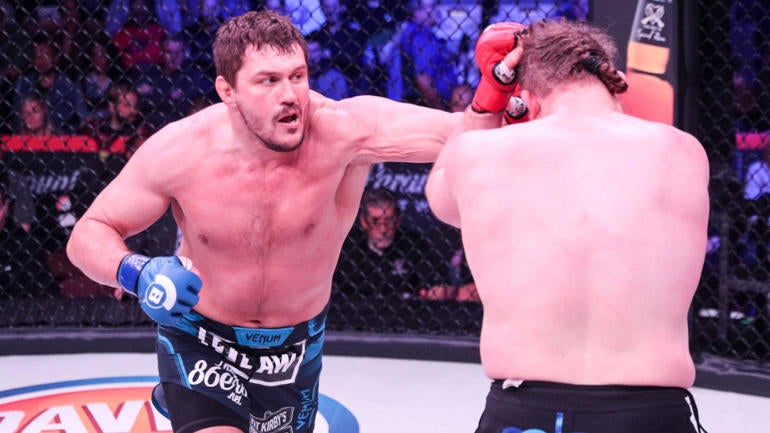 Matt Mitrione got his revenge against Roy Nelson on Friday night in the main event of Bellator 194 as part of the Bellator World Grand Prix Tournament that will eventually crown a new heavyweight champion for the promotion. When these two had their initial meeting as part of "The Ultimate Fighter Finale" back in December 2012 for the UFC, it was the more experienced Nelson who came away with the first-round TKO win. 
The result was vastly different this time around. 
After three five-minute rounds, Mitrione came away with the majority decision win at the Mohegan Sun Arena in Uncasville, Connecticut. One judge scored the bout 28-28 but was overruled by the scores presented from the other judges at the table with 29-28 scores. 
Mitrione clearly won the first two rounds by ensuring he didn't make the same mistake he did in 2012 that contributed to his loss to Nelson. In that first meeting, Mitrione was baited into a brawl with Nelson and he paid for it. Although he ended the waning moments of Friday's first two rounds on his back, he was able to use his seven-inch reach advantage to punish Nelson with jabs and avoid any sort of brawling scenario. Nelson controlled most of the third and final round by getting Mitrione down to the mat again, but he couldn't do enough damage to ultimately turn things in his favor. 
With the win, Mitrione now moves on in the Bellator World Grand Prix and will face the winner of Muhammed "King Mo" Lawal vs. Ryan Bader in the semifinals. That fight will take place in the main event of the Bellator 199 card on May 12 in San Jose, California. 
The next scheduled fight in the heavyweight tournament will be on April 28 in Chicago as Fedor Emelianenko goes one-on-one with Frank Mir. Chael Sonnen, who worked as the color analyst for Bellator 194 on Friday night, was the first to advance in the tournament when he defeated Quinton "Rampage" Jackson by unanimous decision in the main event of Bellator 192 in January.