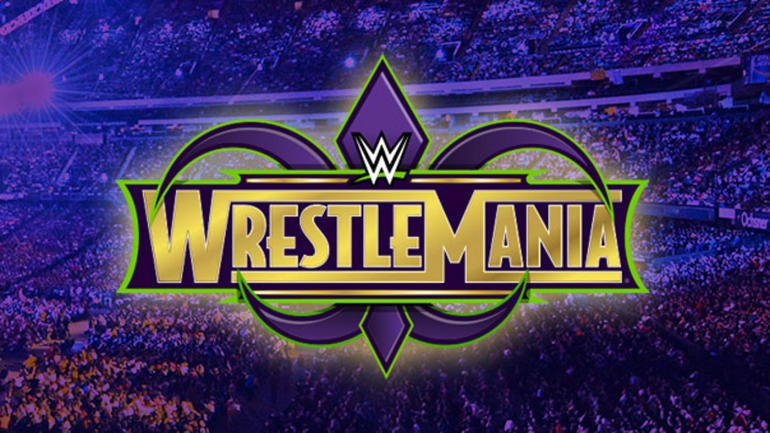 The Road to WrestleMania 34 has just begun, but we already have some clarity as to what the "Showcase of the Immortals" will look like this year. WWE WrestleMania 34 is set for Sunday, April 8 in New Orleans, and the card is already stacking up to be a massive one.
CBS Sports will be onsite at the big show in April, but for now, let's take a look at how WWE's biggest pay-per-view of the year is shaping up in terms of matches and rumors. Don't worry, no spoilers here per se, just predictions as to how everything is going to shake out when all is said and done.
WWE WrestleMania 34 matches
WWE Championship — AJ Styles (c) vs. Shinsuke Nakamura: After winning the 30-Man Royal Rumble, Nakamura had his choice of WrestleMania opponent and immediately called out Styles as the two rekindle their rivalry from New Japan Pro-Wrestling. This should be a "smart" fan's dream, and while it is unlikely to main event the show, it may very well be the match of the evening in New Orleans.
WWE WrestleMania 34 predictions
The following matches are all projections based on current storylines.
Universal Championship — Brock Lesnar (c) vs. Roman Reigns: This one has been coming for 365 days ever since Lesnar beat Goldberg for the title and Reigns beat The Undertaker at WrestleMania 33. Reigns will likely have to win Elimination Chamber in order to get the spot, but that should go down in February.
The Undertaker vs. John Cena: It looked like WrestleMania 33 was Taker's retirement, but he is apparently way healthier this year following a much-needed and delayed hip surgery. His confusing promo at Raw 25 notwithstanding, many seem to believe Taker is ready to go for another payday, and Cena makes the most sense — by far — of any potential opponent. It would be a huge addition to the card.
SmackDown Women's Championship — Charlotte Flair (c) vs. Ronda Rousey OR Asuka: Though she only made her debut at the Royal Rumble and there's a ways to go storyline-wise before we get to a match, it makes the most sense — by far — for Rousey and Flair to square off at WWE's biggest show of the year. If not, Asuka flipping brands to SmackDown (hence the Royal Rumble winner stipulation added at the last minute) and continuing her undefeated streak by beating Flair would be great.
Raw Women's Championship — Alexa Bliss (c) vs. Asuka OR Nia Jax: With Asuka winning the first women's Royal Rumble, she will have her choice of opponent at WrestleMania. Ultimately, I think that will be then-women's champion Sasha Banks, but she does not have the strap right now, so Bliss is a placeholder. Banks-Asuka was teased at the Royal Rumble, and it was a big-time moment. If Bliss does keep the title, it would make sense for her to go up against her real-life best friend and on-screen frenemy in Nia Jax.
Intercontinental Championship — The Miz (c) vs. Braun Strowman: It's time to put a strap on Strowman, though it remains to be seen how WWE will get here in terms of storyline, and it may not even begin developing until after Elimination Chamber. I'd prefer Finn Balor in this spot.
Ronda Rousey & TBD vs. Stephanie McMahon & Triple H: Should Rousey not immediately get a title match against Flair, a tag team (or mixed tag team) match could be on the horizon. Perhaps there is a reason WWE is promoting the Mixed Match Challenge so hard. This could potentially be a call-back to the WrestleMania 31 incident between Rousey and The Rock along with McMahon and Triple H. There is also the potential for Batista to get involved here as he's made it known he wants back in WWE. Or Rousey could team up with Raw general manager Kurt Angle, who looked to be prepared for a storyline with Tripel H coming out of Survivor Series.
Seth Rollins vs. Samoa Joe OR Finn Balor: With Jason Jordan dealing with an ailing neck, Rollins does not have a clear path to 'Mania. Samoa Joe is coming off a foot injury and is expected to be cleared in March. Balor similarly does not have an obvious storyline leading into the big show, though there was the spot with Rollins' Black Out finisher that could create some animosity between the two.
SmackDown Tag Team Championship — The Usos (c) vs. The Bludgeon Brothers: It initially looked like WWE was going to roll with this match for Fastlane, but now it appears as if it is going to be built up another month-plus for WrestleMania 34.
Raw Tag Team Championship — The Bar (c) vs. TBD: The titles will surely be defended on the show, but there is no clear opponent at this time. Perhaps Luke Gallows & Karl Anderson can be built up for this spot.
Andre the Giant battle royal: Probably. | [Insert name] women's battle royal: Maybe.