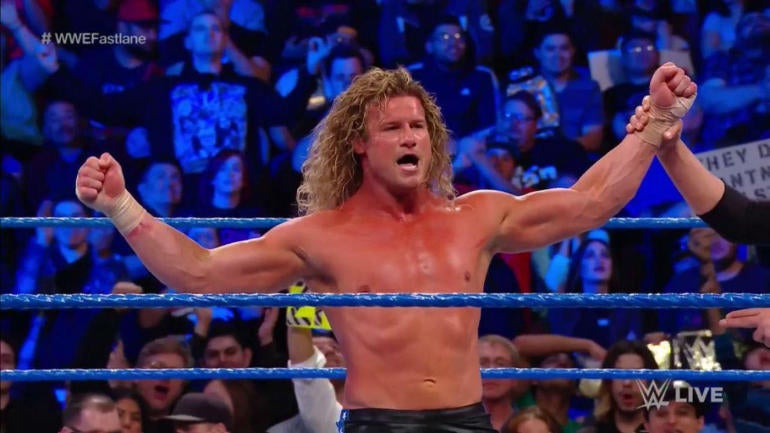 The assumption coming out of WWE SmackDown Live last Tuesday was that we would have familiar participants in the WWE championship match at the upcoming Fastlane show. After champion AJ Styles' temper got the best of him while he was sitting at ringside at the announce table, it was determined by brand general manager Daniel Bryan that he would again defend his title against both Kevin Owens and Sami Zayn. This time, though, the matchup would be a triple threat bout as opposed to the handicap match we saw them all participate in at the Royal Rumble last month. Everything was set for March 11 in Columbus, Ohio, right? 
Wrong. To prolong the rift between Bryan and Shane McMahon that has been going on for seemingly forever, the SmackDown commissioner announced on Twitter that the returning-to-action Dolph Ziggler would face Baron Corbin Tuesday night. The winner of that match would then be added to the main event of Fastlane for the WWE championship, setting up the Fatal 4-Way. 
Surprise! Fatal 5-Way is coming at Fastlane
The returning Ziggler made his way to the ring for the No. 1 contender's match to begin Tuesday night's SmackDown Live; however, his opponent in Corbin did not. After hitting his music twice with no Corbin in sight, the cameras cut to the back where Owens and Zayn were pummeling the former United States champion. Owens declared there was now one down and one to go, and the two made their way out to the ring area to put the focus on Ziggler next. "The Showoff" tried to make an escape through the crowd but he, too, was left laying by KO and Zayn on the outside. As Owens and Zayn were confidently making their way to the back, Corbin emerged to try and get some semblance of revenge, which ended up being a terrible plan as he was laid out again. 
During a backstage segment, a visibly annoyed McMahon confronted Bryan to let him know that he had set up matches featuring Corbin vs. Owens and Ziggler vs. Zayn in the aftermath of what took place to open the show. The stipulation put out there by the SmackDown commissioner was that if either Corbin or Ziggler win their respective matches, they're in the main event, now setting up the possibility for Styles to defend his title in a Fatal 5-Way at Fastlane. And to add intrigue to the new plan, if Owens or Zayn interfered in each other's matches, then the competing member would be out of the Fastlane main event altogether. 
Baron Corbin def. Kevin Owens via pinfall: After these two brawled both in and out of the ring, Owens shot Corbin into the ropes for the Pop-Up Powerbomb attempt. Corbin hooked his arms onto the ropes, though, and was able to catch KO with the End of Days for the win. 
Dolph Ziggler def. Sami Zayn via pinfall: Prior to the main event, Ziggler cut a backstage promo where he proclaimed he wants the one accolade that's eluded him in his career — main-eventing WrestleMania. If he wins this match, he'll be one step closer to attaining that goal. These two put on a pretty entertaining match, as many would probably expect, but it was Ziggler in the end who earned the victory with a superkick. His ticket has been punched to the main event of Fastlane and now, folks, we have a Fatal 5-Way officially on our hands. 
So, to recap real quick: Before we get to WrestleMania on April 8, we'll have a seven-man main event on the Raw side of the company at Elimination Chamber and now a five-man main event here for the blue brand for Fastlane. Not the ideal situation, but then again, not much has been in WWE as of late, especially on SmackDown. It would have been fine to add just one man to the triple threat match at Fastlane, but yet again, the Bryan-Shane drama needed to factor into the show somehow. At this point, a lot of fans are probably debating whether or not Bryan making a return to in-ring action would be enough to justify all we've been through to get to that point. 
What else happened on SmackDown?
Charlotte Flair def. Sarah Logan via pinfall: Becky Lynch and Naomi made their way out to have the SmackDown women's champion's back as equalizers to Riott Squad members Ruby Riott and Liv Morgan. Flair, for the second week in a row, was successful in her quest to eventually dispose of the Riott Squad. The champ got the 1-2-3 after a beautiful Natural Selection that spiked Logan's head right into the mat, and now only Riott is left on Charlotte's list. The Flair vs. Riott matchup will not be coming to us next Tuesday as you might assume, however, because we're getting a six-woman tag match featuring all of these competitors instead. 
No U.S. Open Challenge after all: In the ring, Bobby Roode said he wanted to keep the United States championship Open Challenge going, much like John Cena did a few years ago. However, while it was an open challenge on this night, Roode made it pretty clear that he wanted Randy Orton to answer the call after eating an RKO outta nowhere last week. The champion got his wish as Orton made his way to the ring, but there was ultimately no title match. Jinder Mahal interrupted the segment, heading out to stir the pot by needling Orton about his No. 9 spot on the SmackDown Top 10 list while Roode, who has only been on the main roster for six months, is No. 6. The U.S. champ let Orton know that he does respect him very much, but also pointed out that maybe the reason the superstars voted the Viper that low is because they're sick of getting attacked out of nowhere. Playing off this, Orton nailed the Singh Brother in the ring with a surprise RKO, before Mahal laid out both babyfaces with The Khallas to stand tall. At the very least, this was WWE's first attempt to make us care about this new rankings system. 
The New Day def. Chad Gable & Shelton Benjamin via pinfall: After Benjamin and Gable ruined Big E's attempt to break a pancake-eating record, The New Day (Big E and Kofi Kingston) got the win after the Midnight Hour. The win came after Xavier Woods caused a distraction on the apron which didn't allow the referee to see a tag attempt from Benjamin to Gable. That means more from these two teams, which isn't necessarily a bad thing from what we've seen thus far. For now, just enjoy Gable and Big E suplexing one another, which is just wonderful. 
The Usos, Bludgeon Brothers future feud builds:The Usos cut a pretaped promo talking about their dominance as usual, but the segment ended with the Bludgeon Brothers destroying a television it was being shown on with their rubber sledgehammers. I've said it before and I'll say it again, I have very high hopes for the upcoming program featuring these two teams.