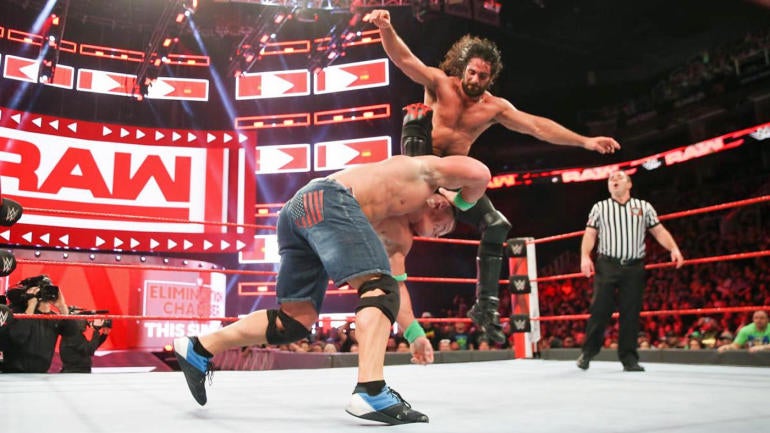 Considering WWE's booking of late on go-home shows, it wouldn't have been a stretch to predict Monday's episode of Raw would be short on storyline developments. But forecasting a two-plus hour gauntlet match to open the show surely wasn't on anyone's radar.  
WWE chose a unique way to set the stage for Sunday's Elimination Chamber pay-per-view in Las Vegas with a match that announcer Michael Cole teased as the longest in Raw history. The results were an equal mix of good and bad, highlighted by an enthralling micro-match between Seth Rollins and John Cena that was longer than most PPV main events.  
Continuing the push of his "Monday Night Rollins" moniker, WWE did well to give "The Architect" a special moment that won't soon be forgotten as Rollins showcased his iron man potential by owning the opening hour of the show inside the ring. Pushed as a second-tier star since returning from major knee surgery two years ago, this was the closest Rollins' character has felt to his 2015 heel prime in a performance which produced a genuinely organic outpouring of love from the crowd.  
But the feel-good response of Rollins' trio of matches on Monday merely covered the sin of WWE proving bankrupt of anything new to reveal (save for an interesting and cryptic promo from Cena) ahead of Elimination Chamber. For as many highs as the gauntlet match produced, WWE failed to explain in kayfabe terms what would warrant each superstar to risk injury ahead of a title opportunity with nothing (including the chance to improve their placement at the Chamber) at stake. The match also screamed of WWE being willing to give away Sunday's PPV main event for the sake of television ratings despite the customer fatigue and overexposure it creates.
Big fan of WWE? Be sure to subscribe to my podcast In This Corner with Brian Campbell where I break down everything you need to know each week.
Let's take a look at each of the falls within this nearly 120-minute gauntlet match: 
1. Seth Rollins def. Roman Reigns via pinfall: A pre-match interview from Reigns focused on how he's the only wrestler at Elimination Chamber capable of defeating Brock Lesnar, which he referenced he would've done if not for Rollins at WrestleMania 31. The three-segment match took up the first 30 minutes of the show. After a series of close calls, Reigns escaped a Curb Stomp Blackout Stomp attempt to roll Rollins up, but "The Architect" rolled through to secure his own pin, leaving Reigns incredulous.  
2. Seth Rollins def. John Cena via pinfall: This epic, 35-minute match featured three commercial breaks, a gluttony of dramatic near falls and multiple count out teases. It also featured next-level intensity as the crowd transformed Raw into a pay-per-view feel by extolling this match-of-the-year contender. In the end, this was all about Rollins, who kicked out of Cena's Attitude Adjustment at 2.99 and later rolled through a Cena splash attempt to hit his own AA for two. Rollins showcased strength, stamina and incredible athleticism. After eating a second AA late, Rollins reversed Cena into a Curb Stomp for the 1-2-3.
After the match, a backstage Cena interview teased possible storyline developments as he reiterated how he lacks a road to WrestleMania without winning on Sunday. Cena admitted he made a "sympathetic mistake" he shouldn't have in how he lost to Rollins and revealed he has six days to sort out his priorities. "I think it's globally known, I'm trying to balance things at once," Cena said. "I'm not saying it's impossible; I'm going to keep trying. But it's a call to action to myself." 
3. Elias def. Seth Rollins via pinfall: With taped up ribs from Braun Strowman's attack last week, Elias failed in his attempts at quick pins on a worn down Rollins, who sold an injured knee throughout the match. Elias brought an early end to the match with his Drift Away finisher, which triggered a standing ovation for Rollins from the crowd after 60-plus minutes of wrestling.  
4. Finn Balor def. Elias via pinfall: Early rest holds produced "We want Rollins" chants from the crowd. Balor, who sold an injured shoulder during the match, rallied to hit his Coup de Grace on Elias' sore ribs for the victory.  
5. The Miz def. Finn Balor via pinfall: The Miztourage pump-faked a running attack to distract Balor from The Miz's ambush from behind. A pair of early DDTs from Miz could only produce two. Constant interference from Bo Dallas and Curtis Axel quickly became the norm. Distractions from both on the ring apron slowed Balor's attempt at a Coup de Grace long enough for Miz to push Balor off the top rope and hit his Skull-Crushing Finale to end it.
6. Braun Strowman def. The Miz via pinfall: After Miz opened the match by attempting to run backstage, Strowman sprinted through the crowd to intercept and drag him back in. Following a sustained beatdown, Miz rallied to hit his Skull-Crushing Finale out of nowhere. But Strowman's kickout attempt was so epic that it sent Miz through the ropes to knock over The Miztourage outside. Strowman went on to finish him off with a running powerslam and called out "Beastie Boy" Lesnar in his post-match interview, threatening that Brock will "get these hands" at WrestleMania. Strowman then reentered the ring to hand out multiple powerslams to The Miztourage. After The Miz escaped, Strowman chased him backstage, dragged him back to the ring and hit two more powerslams.   
Sadly, anyone familiar with WWE's booking ahead of PPVs could sniff out pretty quick that Reigns being eliminated first only cements the likelihood that he's victorious on Sunday. But even the staunchest critic of WWE creative can applaud the simple fun produced by Rollins-Cena and how it made complaining about seeing so many top superstars take clean pins just six days out from a major PPV feel like a moot point for 20-30 minutes. Once the buzz wore off, however, those same holes became more glaring.  
For as much as seeing Strowman destroy anything each Monday has become an event unto itself, excessive powerslams to The Miztourage every seven days is becoming a bit stale. And while it's easy to criticize the hypocrisy in hearing Cena's character worry about not getting a WrestleMania opportunity should he lose on Sunday, the tease toward a larger, overarching story feels fresh and inspired.
What else happened on Raw? 
Nia Jax takes out Asuka: In a preview of their match at Elimination Chamber, Asuka told Renee Young during her in-ring interview that she isn't worried about losing her streak against Jax. "Nia likes to talk but on Sunday she will not be talking, she will tap out," Asuka said. Jax's attempt to ambush her was intercepted with a spinning kick to the stomach. But after a brief brawl, Jax took over to hit a trio of leg drops before standing over Asuka.  
Titus Worldwide def. The Bar via pinfall: The finish of this non-title bout set off another wild celebration from Apollo Crews, Titus O'Neil and Dana Brooke. After Cesaro missed a splash in the corner, Apollo backdropped an interfering Sheamus out of the ring and rolled up Cesaro for the 1-2-3.
Bray Wyatt, Matt Hardy engage in dueling video promos: In what appears to be the fourth match booked for Sunday's PPV card, Wyatt insisted that Hardy be silenced and burned at Elimination Chamber. Hardy countered with his typical catchphrases that Wyatt will be "deleted" and "rendered obsolete" thanks to the Woken One's "power of illumination."  
Sasha Banks, Mickie James & Bayley def. Alexa Bliss (via submission), Mandy Rose & Sonia Deville: In the final build toward Sunday's inaugural women's Elimination Chamber match, WWE did well to tease preexisting angles and feuds. The in-ring action was also well-presented as strong and intense. Bliss spent most of the match reluctant to tag herself in against James. After multiple successful attempts by Absolution to prevent Bayley from making a much-needed tag, Banks finally cleaned house. Her double-knee landing on Bliss was broken up by Rose. But after Bliss picked her up to attempt a snap DDT finisher, Banks countered into the Banks Statement to produce the tap. Rose and Deville attacked Banks after the match and fought off Bayley's attempt to intervene. But just as Absolution looked to turn on Bliss and take her out, James rescued the Raw champion before they exited together.