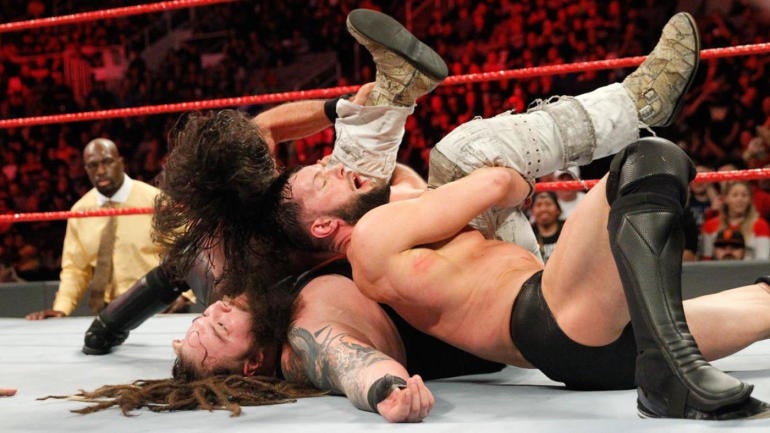 If there are two words that can bring a smile to even the most cynical of WWE fans, it's unquestionably "WrestleMania season." After WWE kicked things off with a strong pair of Raw episodes following the Royal Rumble, Monday's episode raised the intensity to a whole new level with a quick-moving show that was heavy on big reveals and pay-per-view quality matches.  
Not only did the women's division get plenty of deserving shine, the road to Elimination Chamber became a lot more clear following a turn of events which saw The Miz being forced to enter the match first and both Seth Rollins and Finn Balor force their way into the last-remaining spot. But the show's highlight was quite arguably the growing legend of Braun Strowman, who toned down his violent tendencies just enough to showcase his comedic chops in a memorable segment. 
Big fan of WWE? Be sure to subscribe to my podcast In This Corner with Brian Campbell where I break down everything you need to know each week.
It's now a seven-man Elimination Chamber match 
After talking Raw general manager Kurt Angle into being added to Monday's second-chance Fatal 5-Way match for a spot at Elimination Chamber, Rollins made the most of his opportunity in the wild main event.
Finn Balor & Seth Rollins def. Bray Wyatt (via pinfall), Matt Hardy and Apollo Crews: Each superstar seemingly took turns showcasing their signature moves, including Balor handing out Slingblades and Rollins hitting a trifecta of suicide dives. After Balor broke up a late pin attempt with a Coup de Grace, Rollins hit him with Blackout until his pin was broken up by Crews. The Titus Worldwide member then went on a rally of his own, twice securing near falls on Rollins following a standing moonsault and shooting star press. The finish came after Wyatt's superplex attempt on Crews turned into a double powerbomb from Rollins and Balor underneath. The two babyfaces then attempted a pin of Wyatt at the same time with both Rollins and Balor declared winners as the show went off the air.
Minutes later, during a Facebook Live stream on WWE's page, Angle announced the first seven-man Elimination Chamber match at the Feb. 25 pay-per-view. Rollins and Balor will join Roman Reigns, The Miz, John Cena, Elias and Braun Strowman.  
Strong booking from WWE to create the short-lived cliffhanger finish. The addition of both Rollins and Balor only enhances the Elimination Chamber match, making it a triple threat to start unless WWE debuts a fifth pod (or shoves two superstars into a small booth). Even better, the continuing tease of a Rollins-Balor feud entering WrestleMania promises nothing but five-star match potential. WWE creative pressed all the right buttons on Monday and the important feel of the go-home finish, featuring an exciting match with something legitimate at stake, was a big part of that.
Braun Strowman is all about the bass
Elias drew major heat during his in-ring song by declaring California "a toxic dump" and boasting he's the favorite to win Elimination Chamber. He also claimed to have written lyrics specifically for The Miz's pregnant wife Maryse. An interruption came in the announcement of: "Ladies and gentleman, Braun Strowman."
The big man was seated on the stage with a microphone and soon revealed a giant standup double bass, which he held like a guitar and broke the strings while attempting to play. The giant went on to sing a song which included the lyrics, "You don't know it but when this song is over, you're going to get these hands." After Strowman was initially jumped while entering the ring, he countered Elias' attempt to hit him with a guitar by striking him down and adding a running powerslam. As Elias crawled away from the ring, Strowman picked up the bass and smashed it over him.  
There isn't a single WWE superstar who continues to evolve his character at the level of Strowman. Showing more of a comedic side on Monday without compromising his barbaric ways, Strowman had the crowd eating out of his hand in a well-crafted segment that felt like WWE of old. Elias, meanwhile, was no slouch as a heat-seeking missile. While it remains uncertain whether these two will continue doing business together on the Road to WrestleMania, both are so scorching hot by being so comfortable in their respective gimmicks that no complaints would be had.
What else happened on Raw?  
The Miz will enter Elimination Chamber first: John Cena opened the show by telling the crowd he doesn't have a Road to WrestleMania without winning Elimination Chamber. Out came The Miz to trigger an entertaining smacktalk duel, which ended in Cena challenging him to a match tonight with the loser being forced to enter the Chamber first on Feb. 25. After Bo Dallas cold-cocked Cena to lay him out, The Miz called for a referee to start the match (which was surprisingly approved by Kurt Angle, who banned The Miztourage from ringside). John Cena def. The Miz via pinfall: The three-segment match set the tone for the in-ring gold that would follow all evening as both kicked out of each other's finishing move in dramatic fashion. Cena blocked a Skull-Crushing Finale attempt from the top rope and hit Miz with an Attitude Adjustment from the second turnbuckle to get the win.
The Revival def. Luke Gallows & Karl Anderson via pinfall: After a backstage promo from the Good Brothers called them nerds, Scott Dawson and Dash Wilder attacked them from behind on the way to the ring. The subsequent match was physical, all the way through a hot tag to Anderson. But The Revival turned the tables late, hitting him with the Shatter Machine for the 1-2-3. 
Kurt Angle makes Jason Jordan, Ronda Rousey announcements: The Raw GM revealed that Rousey, the former UFC champion, will sign her WWE Raw contract in two weeks at Elimination Chamber in Las Vegas. Angle also announced Jordan, his storyline son, will be forced to miss WrestleMania 34 after having neck surgery. After Rollins came out to offer his sympathy for Jordan, "The Architect" pleaded for his own WrestleMania opportunity. "I want to be the man one more time," Rollins said. "I want Brock Lesnar." That's when Angle added Rollins to the second-chance main event after the crowd chanted "Yes!" to the option.
Bayley def. Sasha Banks via pinfall: Bayley sold a right shoulder injury for the majority of this long, PPV-quality match. Wrestling in front of her hometown fans in San Jose, Bayley looked recharged and the best she has in months. After missing with an elbow from the top rope and landing on her injured arm, Bayley fought out of a Banks Statement by grabbing the ropes. She went on to hit a Bayley-to-Belly suplex from the second turnbuckle for the finish. As the best friends were set to embrace after the match, Nia Jax interrupted by laying them out and delivering a pair of Samoan drops. During a post interview, Jax talked about how both wrestlers pushed Asuka to the limit of late and "I just destroyed them in seconds." She closed by claiming she will break Asuka's unbeaten streak at Elimination Chamber. WWE also aired a great package on Asuka's streak during the show, the best promotion it's received since her main roster deubt.
Mandy Rose & Sonia Deville def. Mickie James & Alexa Bliss via pinfall: Bliss, who saved James from an attack by Absolution last week, apologized to James backstage for her comments during their 2017 feud, saying she was jealous of the former champion. The subsequent match featured plenty of physicality. But James saw her hot tag attempt intercepted when Deville took Bliss down from behind on the apron. Rose followed with her finisher, the Bed of Roses facebuster, to finish James. Absolution followed with a stomping of James until Bliss ran them off.  
Roman Reigns def. Sheamus via pinfall: Near falls and dramatic reversals littered this hard-hitting match. Sheamus turned a Superman punch attempt into White Noise for two and Reigns did the same after intercepting a Brogue kick with a Superman punch to the jaw. The intensity continued to build to the finish when Reigns caught a top-rope leap from Sheamus with a spear for the 1-2-3.