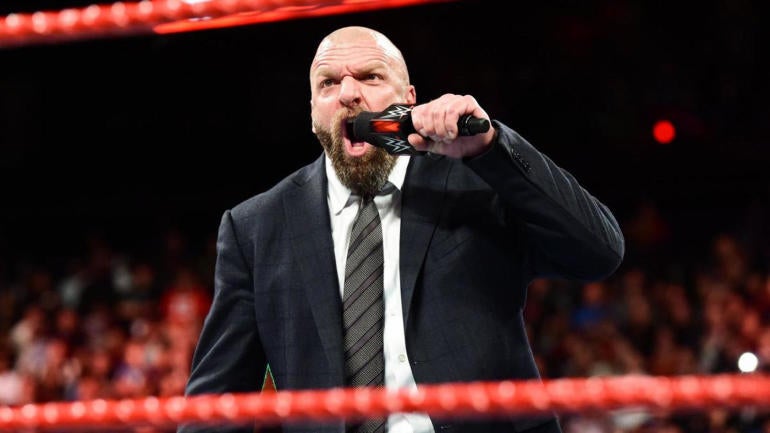 With a week to go until WWE Elimination Chamber and a couple more until Fastlane, the company's Road to WrestleMania 34 is officially in full swing. But with so many moving parts, there is always a plethora of WWE news and rumors hitting these very interwebs each day, and we here at CBS Sports are here to wrap it all up with a nice bow for you. Let's take a look at what's going down on Thursday, Feb. 15.
The Game's time coming soon in WWE?
As WWE chairman Vince McMahon, 72, diverts at least a portion of his focus toward the XFL and prepares for the future of WWE, it appears as if his son-in-law, Paul Levesque, is taking the necessary steps in preparation of one day assuming full control of the company's creative process. According to Dave Meltzer of the Wrestling Observer Newsletter (subscribe here), the man better known as Triple H is "assembling his team in NXT to be ready when that time comes" to take over the company. Triple H, who has run NXT for years was recently given the responsibility of leading booking for the 205 Live cruiserweight show on WWE Network, recently hired Impact Wrestling veteran Jeremy Borash to that end.
NXT's booking has received plenty of critical acclaim as of late, and while WWE continues to book Raw strong, sister program SmackDown Live is struggling mightily from a creative standpoint due in large part to a significant roster imbalance. Meltzer notes that those within WWE believe Triple H's takeover is "inevitable" and points to recent contract negotiations with Ronda Rousey — handled by Triple H and Stephanie McMahon, not Vince — as an example of this process already beginning to take place.
More WWE news, rumors
WWE future endeavored former cruiserweight champion Rich Swann on Thursday. Swann was arrested in December on charges of battery and kidnapping after being accused of trouble with his wife during an argument that began in their vehicle, though those charges were dropped.
Rumors continue about potential changes to WWE's pay-per-view structure. The company already reduced its number of planned PPVs for 2018, but there is now conversation that they may all become dual-branded events. On this week's edition of the CBS Sports "In This Corner with Brian Campbell" Podcast, we discuss this potential change at length.
For those wondering when Daniel Bryan's contract officially expires, the date is Nov. 1, 2018, according to a tweet from Meltzer. There are rumors that the recent angle involving Bryan and SmackDown commissioner Shane McMahon will lead to a long-awaited in-ring return at WrestleMania 34, but they remain rumors at this point as the storyline has barely developed over the last couple of months.
During an interview on Chris Jericho's "Talk is Jericho" Podcast, New Japan Pro-Wrestling star Will Ospreay, the company's current IWGP junior heavyweight champion, claims he recently rebuffed interest from WWE due in large part to the company's difficult schedule, including having superstars work on Christmas this past year.