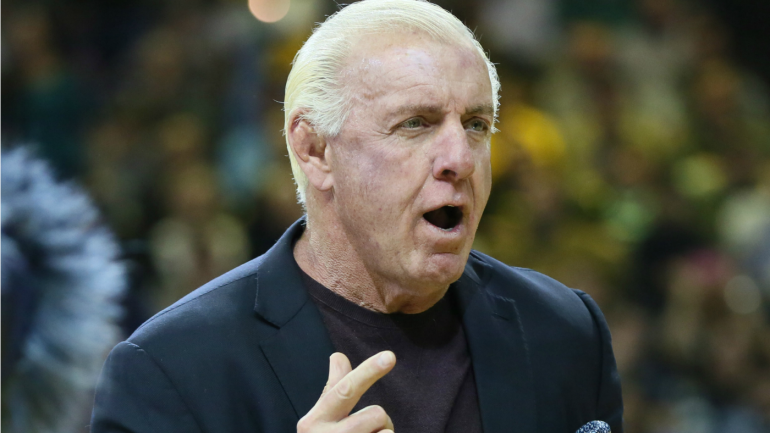 The Road to WrestleMania has officially begun, with two WWE Network events set to take place for each brand before we get to New Orleans on April 8. The Raw brand has Elimination Chamber coming up just one week from Sunday, while the SmackDown Live brand will present Fastlane on March 11. With so much going on in WWE this time of year, there's always news and rumors that need to be spread to the masses, and we here at CBS Sports do just that for you every day. So, let's take a look at some of the news and rumors making the rounds for Friday, Feb. 16.
What would a current Four Horsemen look like to Ric Flair?
One of the most popular hypothetical questions among wrestling fans is trying to decipher what a current Four Horsemen group would look like. The Horsemen faction, led by the legendary "Nature Boy" Ric Flair, once ruled the pro wrestling world in the as they terrorized babyfaces in the NWA and WCW. While it's fun for us as fans to wonder who on the current WWE roster would be perfect fits for a new version of the Horsemen, it's best when we get some insight from the man whose opinion matters the most — the "Nature Boy" himself. 
During a recent appearance on the 98 Rock Morning Show with Justin, Scott and Spiegel in Baltimore, Flair was asked to pick four members of the current WWE roster that he believes would be best to form a 2018 version of the Horsemen. The first two current competitors he selected were Dolph Ziggler and Seth Rollins, two men most would agree fit in nicely as Horsemen members. The final two Flair named should undoubtedly have people sitting down for controversial discussions. To finish off the current version of the Horsemen, the 16-time world champion would take the most polarizing figure in pro wrestling today, Roman Reigns, as well as his former Evolution running mate, Randy Orton. Reigns in a Horsemen grouping would certainly generate some noteworthy reactions, while it's tough to tell how Orton's inclusion would be received. 
Whatever everyone's opinions on these four together in a fantasy WWE world may be, it's certainly worth discussion that the leader of the legendary faction picked these four superstars to lead the charge in the present day if it were up to him. 
More WWE news, rumors
During a recent interview on Edge and Christian's podcast, E&C's Pod of Awesomeness, former world champion Dave Batista agreed with the sentiment of many when he revealed he wasn't a huge fan of the way CM Punk walked out of WWE the night after the 2014 Royal Rumble. He compared Punk's exit to that of current WWE Universal champion Brock Lesnar back in 2004, citing that's just not how business is done in pro wrestling. 
According to the Wrestling Observer (subscribe here), 2017 Andre the Giant Memorial Battle Royal winner and SmackDown Live superstar Mojo Rawley has signed a new deal with WWE. The exact terms of the deal are unknown at this time, but the former NFL player will be staying with the company for the foreseeable future. This news should certainly stir up more talk of his best friend and New England Patriots tight end

Rob Gronkowski potentially making the jump to WWE

. 
A recent report from PW Insider notes that injured Raw star Dean Ambrose was recently spotted in Birmingham, Alabama. This being the location of renowned athletic surgeon Dr. James Andrews and his team, it's brought about speculation that the "Lunatic Fringe" could be getting set to work on his comeback from a triceps tear suffered late last year that put him out of action for what WWE has reported to be nine months.