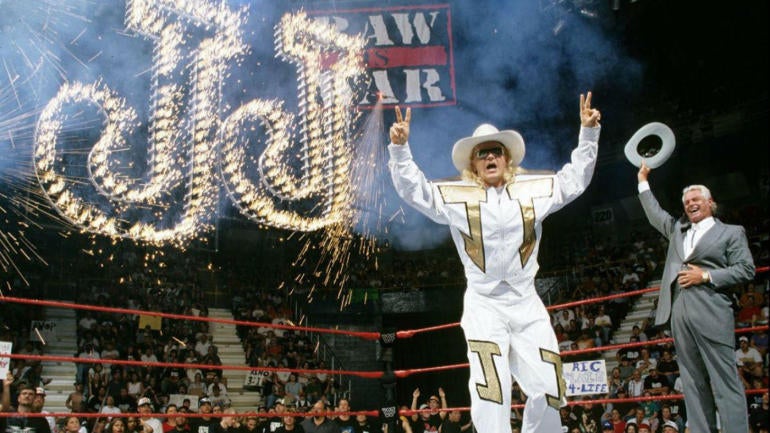 We're just six days away from the Raw-exclusive WWE Elimination Chamber pay-per-view as we continue on the Road to WrestleMania. During WWE's most eventful time of the year, there is no shortage of stories to discuss, and we here at CBS are here to bring you some of the biggest news and rumors making the rounds daily. Let's have a look at some of the notable headlines for Monday, Feb. 19, beginning with a fairly stunning 2018 Hall of Fame announcement. 
Jeff Jarrett being enshrined in New Orleans
Last week, whispers began to make the rounds that Jeff Jarrett would be inducted into the WWE Hall of Fame this April. To many, it was blown off as merely a rumor, as inducting the IMPACT Wrestling founder this soon seemed a bit absurd given his shaky relationship with Vince McMahon. Well, it turned out to be not as unlikely as most believed. Monday morning, WWE confirmed an NBC Sports report that Jarrett is the fourth member of the WWE Hall of Fame class, joining Goldberg, the Dudley Boyz and Ivory. 
While the addition of Jarrett to the 2018 class will be a hot topic of debate, the Tennessee native has had a storied career as both a performer and promoter. He was a six-time WWE Intercontinental champion, held the now-defunct European championship one time and had a reign with the tag team championship with the late Owen Hart. During two stints in WCW (1996-97, 2000-01), Jarrett earned four reigns with the company's world heavyweight championship and three with the United States title. After being publicly fired by McMahon on Raw following WWE's acquisition of WCW in 2001, Jarrett and his father, Jerry, would go on to found TNA Wrestling, now known as IMPACT. The younger Jarrett learned the craft of promoting from his father who ran the Continental Wrestling Association in Tennessee which later transformed into the United States Wrestling Association following a merger with World Class Championship Wrestling out of Dallas. 
Just one quick browse through the internet will show Jarrett is a controversial addition to the 2018 WWE Hall of Fame class, but nonetheless, congratulations are in order for "Double J." 
More WWE news, rumors
Braun Strowman is one of the more popular WWE superstars on the roster currently, but we were almost robbed of his greatness due to injury. During a recent Sirius XM Radio appearance, Strowman revealed he ruptured a disc during a match early in his career that caused paralysis in his left leg. Luckily, he was able to get out to one of the best neurosurgeons in Pittsburgh where he underwent a successful procedure and walked out 100 percent healthy. The "Monster Among Men" didn't specify exactly when in his career this scary episode took place, but thankfully for all of us, he was able to get everything fixed up and has become one of the most beloved and entertaining stars of the present time. 
Over the weekend we learned

WWE was going back to dual-branded pay-per-view events

. Apparently, that's when members of the roster were made aware of the news as well. According to Fightful.com, WWE did not inform the talent of the PPV schedule change prior to the announcement being made on Saturday. This isn't the first time we've heard of an instance where the company kept some plans secret from the workers, but you'd think something the likes of a schedule change of this magnitude would warrant giving them all more of a heads up on. 
We may have another instance of WWE shortening a superstar's ring name on our hands. When you navigate yourself to the bio page of Apollo Crews on WWE.com, he's now simply presented as "Apollo," with the "Crews" portion of his name absent. He is mentioned in the actual bio as Crews, but this will be something to keep an ear out for during his next introduction on Raw. 
On the Elimination Chamber go-home edition of Raw Monday night, all seven members of the men's chamber match — John Cena, Elias, Seth Rollins, Finn Balor, Braun Strowman, The Miz and Roman Reigns — will run the gauntlet against each other before they step into the chamber on Sunday. From the women's chamber match, Mickie James, Sasha Banks and Bayley will face Alexa Bliss, Sonya Deville and Mandy Rose in six-woman tag action.