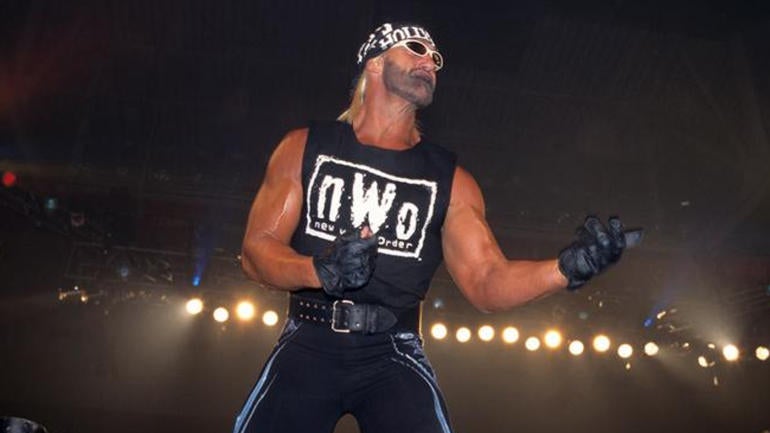 Last summer, it appeared as if Big Cass was in line for a major push following his split from longtime teammate Enzo Amore. But in a match with Amore on Raw the night after SummerSlam, the injury bug bit the former basketball player in the form of a gruesome ACL tear. The injury would put a halt to that push, but his road back to action seems as if it's going well. 
Before we get to an update on this big man, though, some pretty interesting news regarding Hulk Hogan and his pursuit to get back into pro wrestling has surfaced. Let's look at today's WWE news and rumors.
Hulk Hogan almost joined Bullet Club?
After a few years of exile following some racist remarks he made that came to light, the Hulkster is looking to resurface in the professional wrestling world. Well, that almost happened this year — just not in WWE. According to Justin Barrasso of Sports Illustrated, Hogan was offered an opportunity by New Japan Pro-Wrestling to appear at their Jan. 4 Wrestle Kingdom show. While Chris Jericho was a huge North American name to have as a surprise on the show and his program with Kenny Omega undoubtedly drew in a lot of viewers the company may not have had previously, an appearance by Hogan would have been the biggest coup New Japan has had in a long time. Hogan would have been set to appear as an honorary member of Bullet Club, a sort of callback to his nWo days in WCW. 
So, why didn't it happen? Well, according to the report, the price from Hogan's camp was just a little high. The legend and his representation reportedly asked for $750,000 to appear on New Japan's biggest show of the year, which was just a little too steep for them to agree to for what would have probably just been a one-time appearance. Still, what a sight it would have been to see Hogan return to the Tokyo Dome wearing Bullet Club attire, huh?
Big Cass working in the ring again
As he continues to recover from his ACL surgery with the hopes of returning to the Raw brand as soon as possible, Cass has been seen working out at the WWE Performance Center, according to PW Insider. The update on Cass notes he's moving around without any assistance for that knee and he looks to be in great physical shape. When Cass first suffered the injury, WWE explained that the recovery time could be about nine months. This timetable was also confirmed when the injury aired during an episode of "Total Divas" when he met with the doctor. At six months now since the injury, this news of Cass getting back to work in Orlando at the Performance Center is certainly a good sign for his inevitable return to action. With Amore gone from the company now, though, we can all begin speculation as to what sort of angle Cass will be involved in upon his return. 
More WWE news, rumors
Buddy Murphy called up to 205 Live: During Tuesday night's episode of 205 Live, it was announced that former NXT tag team champion Murphy is officially a member of the main roster now as part of the cruiserweight division. He was revealed as a surprise entrant into the cruiserweight championship tournament, and he'll debut next week when he takes on Ariya Daivari in first-round action. Rumors were floating earlier on Tuesday that the surprise was going to be former indie darling and new NXT superstar Lio Rush, but the spot ultimately went to Murphy. He was previously billed at 227 pounds.
Drew McIntyre discusses return goal: In a recent interview with The Mirror promoting his Insane Championship Wrestling Hall of Fame induction, the former NXT champion was asked about his personal timetable for return from a biceps tear. With recovery seemingly going well for the Scottish star since the injury he suffered at NXT TakeOver: WarGames in his loss to Andrade "Cien" Almas, he has all eyes on a WrestleMania weekend return: "This is the first time I've had three months off in my entire career," McIntyre said. "I've had the chance to sit down, reflect, take a look at how I can better myself and I've really come up some good ideas. If I was a champion and I was able to take myself to the level I was able to take myself to before, the way I'm thinking now, the way I'm going to come back now, I'll be a whole different animal and anyone who is in that building can take one look at me and see if I'm ready to return because I've got my sights on New Orleans." Now with the way he was performing during his second stint with WWE, whether he means a return to NXT or the main roster is a whole other topic for discussion. 
NXT matches for Feb. 14: Two championship matches are set to take place Wednesday evening for NXT at 8 p.m. ET on the WWE Network. United Kingdom champion Pete Dunne will put his title on the line against Roderick Strong in what should be a phenomenal bout, and Shayna Baszler will get a second chance at the NXT women's title when she faces off with Ember Moon. Aleister Black is also advertised for action.