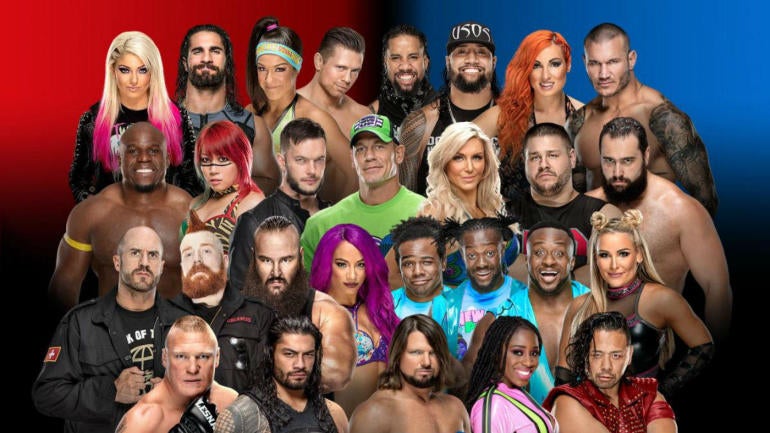 If you happen to be in the camp of WWE fans that believes the company delivers too much content by presenting a WWE Network special event for each brand per month, your prayers have been answered. Rumors began to emerge this past week that WWE was considering the return of dual-branded PPV events featuring stars and feuds from both Raw and SmackDown Live, and on Saturday the company confirmed the change on its website. 
Following WrestleMania 34 in New Orleans on April 8, all monthly WWE Network specials will be dual-branded throughout the rest of the year, beginning with WWE Backlash on May 6. There has been no word yet on whether WWE will produce other network specials as it has in the past before it split up the PPVs, but it has been confirmed that the rest of the 2018 schedule following WrestleMania will feature only dual-branded shows. 
Other than announcing the switch, WWE did not release many more details. More specifically, WWE failed to officially reveal whether the show lengths will be altered in any way. Typically, outside of the so-called "big four" WWE events, monthly specials feature a one-hour kickoff show that airs at 7 p.m. ET with the main PPV beginning at 8 p.m. on the WWE Network and generally ending around the 11 p.m. hour.
All we have right now in regards to show length is speculation with Dave Meltzer of the Wrestling Observer Newsletter (subscription required) reporting that the main portion of the show could have an additional hour added to it to fit talent from both brands on the cards. With the one-hour kickoff show featuring two matches but potentially being moved up to 6 p.m., that would push the total length of B-level WWE PPV shows to five hours. The "big four" of the Royal Rumble, WrestleMania, SummerSlam and Survivor Series generally feature a two-hour kickoff beginning at 5 p.m. and a four-hour card that ends after 11 p.m.
WWE began showcasing dual-branded PPV events again following the brand split in July 2016. Ironically enough, the first dual-branded show they presented that year was the SmackDown Live-exclusive Backlash in September, the first show that took place following SummerSlam. Raw followed up later in the month with Clash of Champions. 
Initially, the two-show-per-month formula was quite popular and well-received — mainly because it was something fresh we hadn't seen in a while, and wrestling fans are always looking for something new to sink their teeth into. Gradually, though, the oversaturation of the product began to set in with most fans and the cries for less monthly content have been loud. There were times where the Raw and SmackDown Live specials were merely two weeks apart from one another, which was just too much for even the most die-hard wrestling fan to handle. 
While it won't admit it as the reasoning behind the change, WWE has heard the cries and implemented this new formula for monthly PPV specials. And truth be told, even if the the main show is increased in length by one hour, simply one show per month featuring members of both brands should be much easier to digest as a fan. All we can hope for with the new format is the level of excitement of these events skyrocketing, and of course, a focus from both creative teams to make things more interesting now that they have fewer chances to be showcased on the WWE Network.