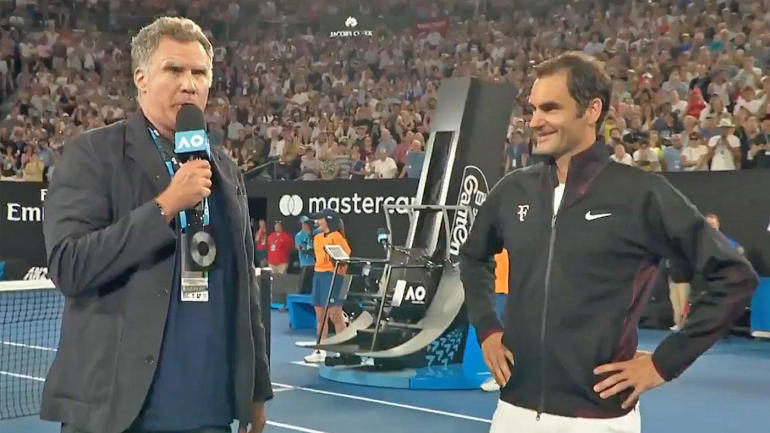 Most Americans are asleep while the Australian Open is going on. It's basically an overnight event stateside. But you don't want to miss Roger Federer looking so awkward in an interview with Will Ferrell/Ron Burgundy that he basically becomes Daniel Radcliffe in every press event after the seventh "Harry Potter" movie. Federer is notoriously one of the most bland interviews in sports, but it's hard not to come out of your shell a bit when you're being interviewed by a man that thinks you're like a gazelle.
Federer initially seemed a bit taken aback when John McEnroe introduced Farrell. As Farrell strode confidently onto the court, he got into character as Ron Burgundy, the totally-real news anchor from "Anchorman."
"Roger," Ferrell began. "Tonight you seemed like a — like a gazelle out there on the court. Would you describe your game as a silky gazelle?"
"Maybe," Federer responded. "Maybe not. A gazelle — don't they get eaten at the end?"
"Not if they're fast enough," Fergundy quipped back.
Once Ferrell steered the conversation to the crowd, asking if Federer got sick of them screaming "c'mon Radjah," throughout the match, Federer simply replied "they remind me of my name." That's the magic of Ron Burgundy. He gets people to unwittingly admit that they need reminders of their own names.
Federer seemed to settle in as the interview went on, and to his credit, he really wanted to lean into the bit. It seemed to physically pain him to not say "Bedene is a great player and this crowd is amazing," but that only added to the charm of the interview. Hopefully we have Ferrell on to interview Federer for the rest of the Open, so we can learn things like Federer sometimes forgets who his opponents are or he secretly thinks the Australian Open has the worst crowd (he probably doesn't, but just in case).