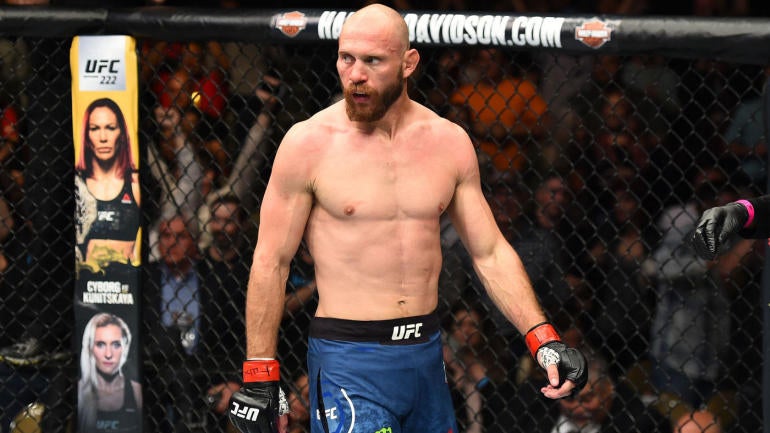 With one thunderous right hand, Donald "Cowboy" Cerrone punched a hole in his three-fight losing skid at Sunday's UFC Fight Night card. He also secured his name in the company record books.
The battle-tested Cerrone finished off Yancy Medeiros via TKO with just two seconds remaining in Round 1 in the welterweight main event in Austin, Texas.
The victory moved Cerrone (33-10, 1 NC) into a first-place tie with Michael Bisping and Georges St-Pierre for most victories (20) in UFC history. Cerrone also equaled the mark shared by Anderson Silva and Vitor Belfort for the most UFC finishes (14).
While it's no surprise considering the history of Cerrone and the all-action Medeiros (15-5, 1 NC) that the fight was entertaining from the opening seconds, the incredible sportsmanship shown by both nearly stole the headlines.
Not only did the two fighters embrace following the referee's instructions, a Cerrone knockdown caused by an accidental trip produced a second exchange midway through the round when Cerrone allowed Medeiros to stand up before the two shared a high five and a hug.
Fresh off a violent victory over Alex Oliveira in December that produced many votes for fight of the year, the 30-year-old Medeiros picked up where he left off by trading punches at a brisk pace. Medeiros, a native of Hawaii, got up quickly after being floored with a counter right hand and opened a cut on the head of Cerrone following a kick.
After both fighters traded big punches in the closing seconds of Round 1, Cerrone caught Medeiros with a looping left hook behind the head and a perfect right cross on the chin to floor him. A series of hammer punches forced the quick stoppage as Cerrone avoided talk that he's past his prime at 34 by halting a losing streak which included two knockout defeats.
"I just bit down and said, 'You know what? Let's go,'" Cerrone said. "I didn't even know there was 10 seconds left [in the round], I was just going for the finish. That's what Yancy and I both look for."
The sportsmanship between the two fighters escalated to even higher levels immediately following the stoppage. After Cerrone kneeled down to grab his opponent by the head and hug him, Medeiros shot up to his feet and leaped over the cage wall to deliver an emotional embrace to Cerrone's grandmother, who was standing cageside.
"I knew Yancy was the guy to [produce a knockout], he was going to stand there and bring it," Cerrone said. "I'm a little more upset my Grandma gets more cheers out here than I do."
Cerrone, who talked before the fight about moving back down to lightweight, recorded the 15th first-round stoppage of his career.
"This is cool, I think I just tied for the most wins in UFC history," Cerrone said. "[UFC] calls me and I say, 'Where we going?' That's all I need to know. Where are we next?"