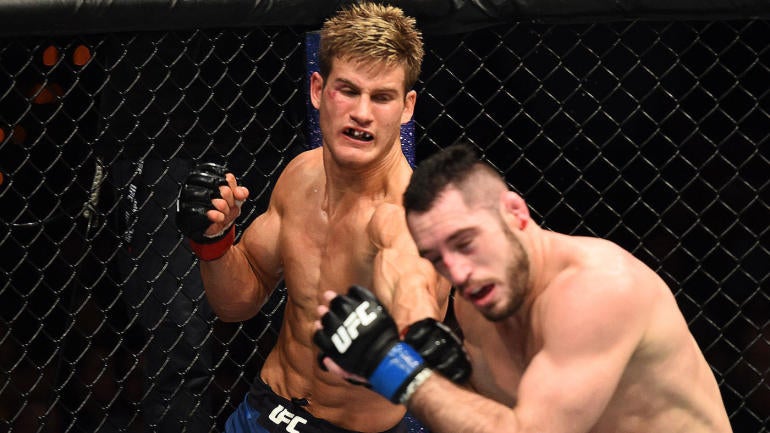 Sage Northcutt might not be one of the top lightweight on the UFC roster yet, but the Texan is slowly developing his game into a more respectable one. Northcutt (10-2) earned a second straight decision win on Sunday night at UFC Fight Night Austin unanimously over Thibault Gouti to kick off the main card.
Northcutt looked solid in the opening few minutes of the fight, displaying his strong wrestling game against Gouti, who has now lost four straight fights in UFC. But once they reached their feet, Gouti rocked Northcutt with a solid right hook and got ahold of his neck for a guillotine attempt.
Northcutt was visibly rocked by the shot, which also landed on his chin again in the second round.
Northcutt did decently in scrambling to his feet out of those bad situations, but it remains to be seen whether he can hold up against the best of the best at 155 pounds. Northcutt did a better job in the third and final round with his standup game by mixing in his body kicks and jabs. But what really appeared to give Northcutt the decision (29-28 on all three scorecards) was a lack of activity from Gouti in that final round, where he sat on Northcutt instead of continuing to pressure the 21 year old.
"When I was against the fence, I kept trying to get back up, get my knees to the side," Northcutt said after the fight. "It's been a few months since my last fight, so me, Mr. Faber and Team Alpha Male were going to prove that big time, which he already has since my first fight in the UFC."
UFC would be a fun place if Northcutt can evolve his game. Just look at how much fun he has after wins.