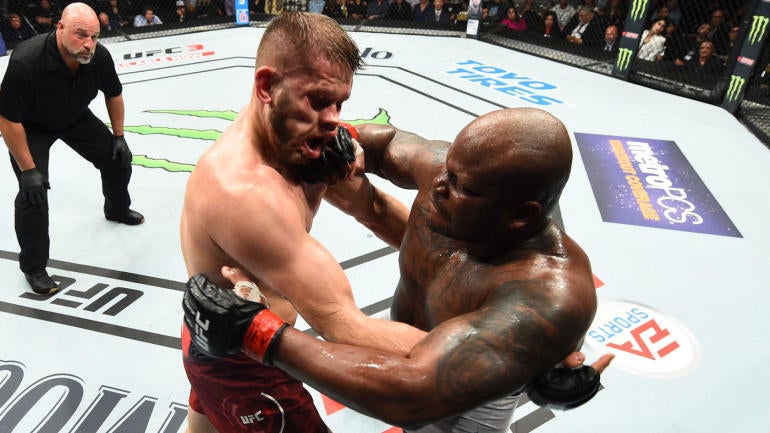 He may be far from the smoothest or most well-rounded heavyweight in UFC, but Derrick Lewis sure knows how to finish a fight. 
Lewis (19-5, 1 NC) broke open a close fight in Round 3 on Sunday with a three-punch combination to finish off Marcin Tybura in the co-main event of UFC Fight Night in Austin, Texas.
A resident of Houston, Lewis drew huge cheers from the crowd as he collapsed on his back in exhaustion following the knockout. Lewis, 33, once again saw the fight-ending power in his right hand cover the sins of another incomplete performance.
"What they know about them Texas boys?" Lewis said. "That's the way I fight. That's the way I do it, baby."
Lewis, who rebounded from a fourth-round TKO loss to Mark Hunt last June, also successfully came back from a back injury that forced him out of an October bout against former champion Fabricio Werdum.
But the 6-foot-4 heavyweight needed a late home run to secure the victory. After Tybura (16-4), a native of Poland, was able to force the clinch and bring both fighters to their knees, Lewis popped right back up and uncorked a three-punch combination.
The first two winging hooks landed partially for Lewis but the third punch was the finisher as he caught Tybura right on the chin with a short right hand to bring an end to the bout.
"I just believed in myself and knew that I had to touch him one more time and that was it," Lewis said. "Those boys in Texas can hit."
The first two rounds featured a typical feast-or-famine result for Lewis as his cardio and takedown defense was constantly exposed by Tybura.
Lewis fought off early submission attempts on the ground in Round 1 to hurt Tybura with right hands. But Tybura closed the round in full mount on the ground before Lewis gave up his back. The round ended with Tybura in control of a kimura attempt.
Round 2 saw a much more cautious Lewis as he conserved energy. He backed up Tybura with a big right hand but once again finished the round in bad shape on his back.
Considering how shallow the heavyweight division remains, the victory was big for Lewis, who entered as the No. 7 ranked fighter by UFC. Lewis, won six straight fights before losing to Hunt, moves one step closer to a shot at Stipe Miocic's title.