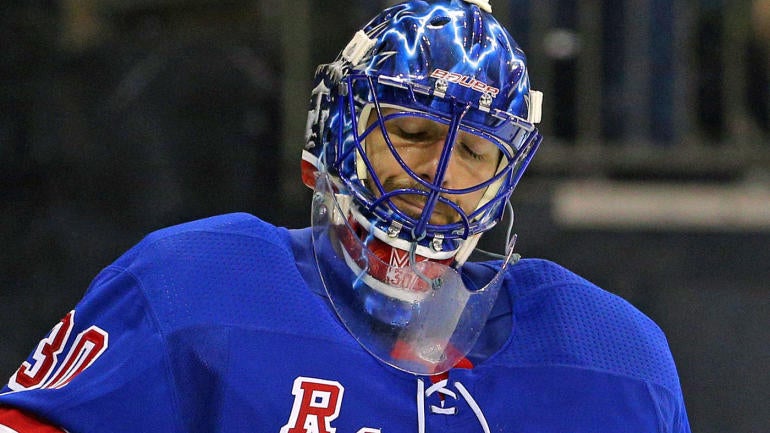 This season has not gone as planned for the New York Rangers. After getting whupped by the Bruins on national television Wednesday night, the Rangers have lost four straight and sit in the cellar of the Metropolitan Division. 
That might be where they stay for the remainder of the season, as the team sent an open letter to fans on Thursday stating their intentions to enter into a rebuilding phase. That letter, signed by team president Glen Sather and general manager Jeff Gorton, seemed to be the white flag being waved on this season.
The Rangers are still only three points out of a playoff spot, but it's evident that they're turning their attention to the future rather than making a playoff push this season. They've often been aggressive buyers at the trade deadline in recent years, but it appears they're going to be sellers this time around.
"We will be focused on adding young, competitive players that combine speed, skill and character," Sather and Gorton said in a release about the deadline. "This may mean we lose some familiar faces, guys we all care about and respect.

… 

Our promise to you is that our plans will be guided by our singular commitment: ensuring we are building the foundation for our next Stanley Cup contender."
It has been reported that the Rangers are willing to listen to offers on pretty much anyone, but the key players who will be shopped prior to the upcoming trade deadline will be impending free agents — including Rick Nash, Michael Grabner, and David Desharnais. With that being said, New York also has valuable assets in veterans like Mats Zuccarello, Ryan McDonagh and Kevin Shattenkirk.
One player to keep an eye on will be Henrik Lundqvist, the goaltender that has been the face of the franchise for the last decade. The 35-year-old Swedish netminder has a full no-movement clause and has said that he's willing to stick around through a rebuild, but he has yet to win a Stanley Cup in his career and could decide to waive his no-trade clause if the Rangers express an interest in moving on from him. A return package for Lundqvist could help expedite the rebuilding process for New York.
As the team shifts into the next era, it's fair to wonder whether the changes will extend beyond just the roster. There have been calls for head coach Alain Vigneault to be fired, but Gorton's job could be in jeopardy in the near future as well, especially if he continues to make questionable deals.
On Thursday, the team announced that they were placing defenseman Brendan Smith on waivers. That move comes less than a year after the team signed him to a four-year, $17.4 million deal. Months prior to that extension, the Rangers surrendered a second-round and third-round pick in order to acquire Smith.
The Rangers have made the playoffs in each of the last seven seasons, advancing to the conference final three times — including one trip to the Stanley Cup Final — but haven't raised the Cup since 1994. They've been aggressive in pursuing another title in recent years, especially while the Lundqvist window is still open, but have remained frustrated in their ability to go all the way.
Now, it seems their urgency will no longer be centered around winning it all with this current group, but rather finding the next group to do it.