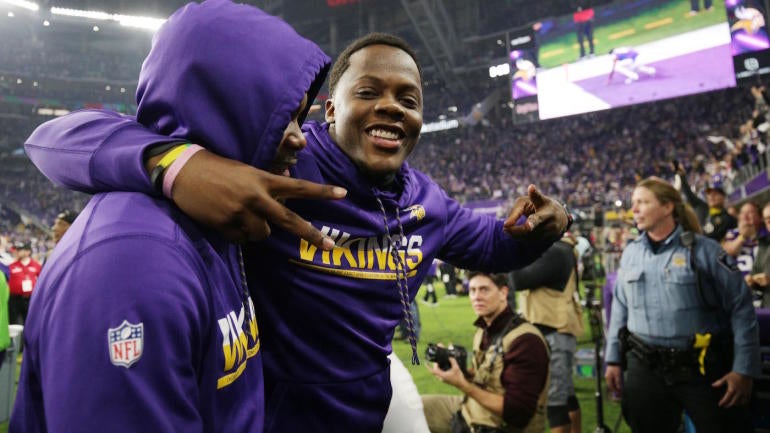 Teddy Bridgewater's comeback became one of the best stories in football last season. Bridgewater, the former first-round pick who led the Vikings to the playoffs in 2015 before suffering a gruesome, career-threatening knee injury on the eve of the 2016 season, made his way back to the point where he became the team's backup quarterback for the final couple months of the season. 
Even though he barely saw the field, Bridgewater called 2017 his "favorite season."
"It was probably my favorite season by far, even though I didn't play much," Bridgewater told ESPN's Courtney Cronin. "This season challenged my mindset because as bad as I wanted to be out there playing, being the competitor that I am, I wanted to go to war and go to battle with my guys, I had to be out there in a different aspect. I had to be there for the guys mentally.
"It gave me a different role, and I accepted it. It was one that was hard to accept because I'm a competitor, but I wouldn't trade this year for nothing."
Bridgewater seems to think that his season spent on the sidelines will actually end up benefiting him because it allowed him to observe the game from a different position. As a result, the game has slowed down for him now.
"It helped me from a mental standpoint where I was studying," Bridgewater said. "As the number two, you have to always stay ready, stay locked in. That was different for me because I had never been in that position. But it helped me because I saw the game from a different view. The game has slowed down so much because I could see it from the sidelines."
During the first two years of his career, Bridgewater flashed promise playing behind a bad offensive line and within an offense that was catered around running back Adrian Peterson. Still he threw for 6,150 yards, 28 touchdowns, 21 interceptions, and an 87.0 passer rating in 29 games. If not for Blair Walsh, who missed a chip shot field goal, Bridgewater would've led the Vikings to a playoff win. He entered the 2016 season as the team's present and future at the quarterback position.
But just before the season, Bridgewater went down with a freak knee injury during practice. Many thought he'd never play football again. Not long after, the Vikings traded for Sam Bradford, who, like Bridgewater, flashed promise as the Vikings' quarterback, but dealt with knee issues of his own. That led to Case Keenum becoming the guy who took the Vikings to the playoffs this past season and then the hero who manufactured one of the greatest plays in NFL history, the Minneapolis Miracle.
Before Keenum's playoff run, though, came an equally powerful moment. On Nov. 12, Bridgewater was activated for his first game since Jan. 10, 2016. 
With how well Keenum played down the stretch, Bridgewater never was given a chance to reclaim the starting job, though he did appear in one regular-season game, throwing two passes. Now, Bridgewater is heading into an uncertain future. Along with Keenum and Bradford, Bridgewater is set to become a free agent in a stacked quarterback class. Given his injury history and time away from the game, he's not going to command a lucrative contract, but someone — probably the Vikings — will give him a chance to prove himself. Last week, CBS Sports NFL Insider Jason La Canfora wrote that he "wouldn't be shocked to see Case Keenum and Teddy Bridgewater back there."
Regardless of where he winds up, you probably won't find Bridgewater complaining after everything he's endured to get back to this point: playing football. With that being said, ESPN reported that he said he "definitely" wants to start next year.
"I'm just going to continue focusing on becoming a better football player, attacking the offseason with the mindset of getting stronger and doing everything that I can to show that when the time comes, I'm ready to play football," he said. "The best thing about it is my dream gets to continue to come true — that I get to play football next year. I'm going to be playing football next year."