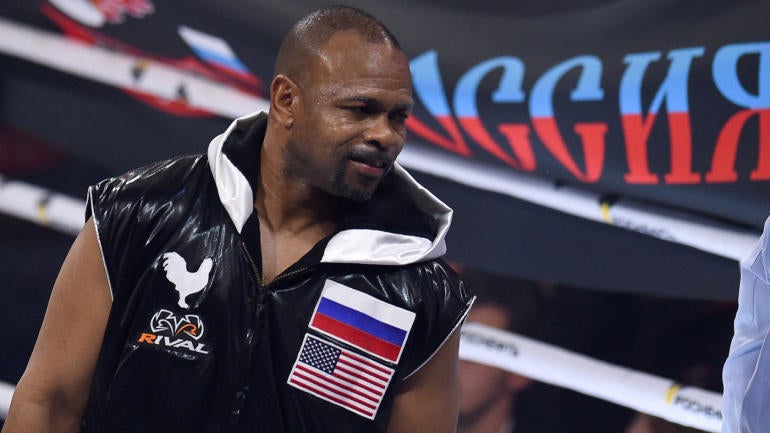 As boxing legend Roy Jones Jr. prepares for what is being called the final bout of his 29-year pro career on Thursday, there has been plenty of retrospective talk about his place in history. 
The 49-year-old Jones (65-9, 47 KOs), a silver medalist at the 1988 Olympics who became the sport's pound-for-pound king for nearly a decade, returns to his native Pensacola, Florida, to face journeyman Scott Sigmon in a 10-round cruiserweight bout that will stream on UFC Fight Pass.
Although Jones is 12-1 since 2011, his level of competition hasn't been steep. Even though Sigmon (30-11-1, 16 KOs) has faced many notable names, he has done so at smaller weight classes and fought at 160 pounds as recently as 2017. 
The narrative this week hasn't be so much about whether Jones will win the fight or even too much on whether he'll change his mind and fight again. Instead, the focus has been on whether Jones, who has largely been a shell of himself since consecutive knockout defeats in 2004, should be remembered as the greatest fighter of his era. 
If we are just talking about the 1990s, when Jones was in his P4P prime between 160 and 175 pounds, the point would be moot. But Jones lingered through the Oscar De La Hoya, Floyd Mayweather and Manny Pacquiao eras which followed. 
Asked Wednesday during an interview with The Telegraph to compare his legacy with that of Mayweather (50-0, 27 KOs), the four-division champion made sure to clarify their respective greatness. 
"Mayweather was TBE — The Best Ever — at making money, but look at his highlights and look at mine," Jones said. "You can't pretend it's the same. People say 'Oh, he was the most talented boxer ever.' Bull crap."
Jones went on to tell BoxingScene.com that it's futile to try compare what he and Mayweather have accomplished. 
"You can't pretend there has ever been anyone come close to doing what I did," Jones said. "Nobody you could name could touch me and I'm talking about nobody who's around now, nobody who was around in my prime, and nobody who was around any time you can mention outta your mouth.
"In my prime, I was the ruler. Simple as that. I understand there's a lot of great fighters who've followed me already since I was the champ — and I hope there's another who comes along does even better because want to see that — but I haven't seen anyone do what I did yet."
While Jones had no issue with Mayweather's unrivaled ability to be both businessman and boxer at the same time (he called the 2017 Mayweather-Conor McGregor fight "a beautiful event — not a boxing match"), he recognizes the two had much different goals in mind. 
"People started playing king of the dollar instead of kill of the hill," Jones told The Telegraph. "When me and Mike Tyson were around, we played king of the hill. Whoever comes to the hill, you get your behind whooped. We don't pick and choose. I fought guys when I had fractured wrists and ribs, bad backs, I didn't care. I was the king of the hill; Tyson was king of the hill. When we left, people were trying to get the 'most money fight.'
"That changed the whole dynamics of the game. Now that era has faded out, people want to see real fights again. Andre Ward got the chance to fight Sergey Kovalev twice, 'Triple G' [Gennady Golovkin] and Canelo [Alvarez] are fighting again. People are getting paid to play king of the hill again."
At the tail end of Jones' prime, he defeated John Ruiz in 2003 for a heavyweight title, joining Hall of Famer and 19th century pioneer Bob Fitzsimmons as the only fighters in boxing history to win world championships at middleweight and heavyweight. But the tail end of Jones' career has seen him stay active despite pleas from those closest to him to walk away and preserve his health. 
Jones, who has become one of boxing's top television analysts with HBO, swears it hasn't been an addiction that has kept him from retiring. 
"In 39 years, there hasn't been a single day where I didn't put on glove, skip, watch tape or spend time thinking about boxing," Jones said. "I'm not addicted, it was just the music God chose to play through me to the rest of the world. You want to make sure you play it to the last song."