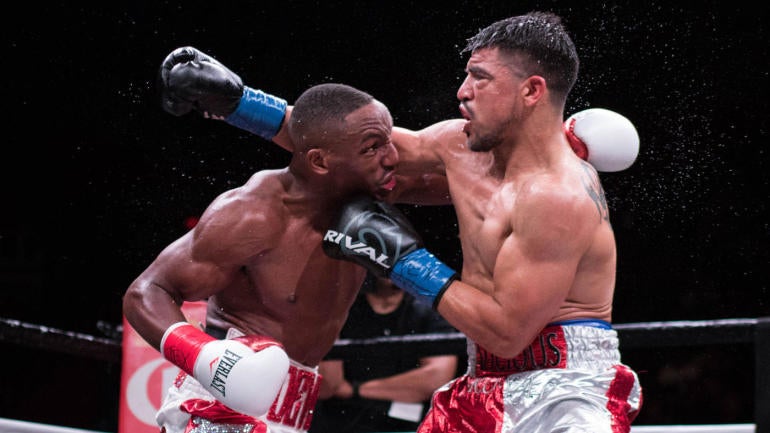 In what had all the makings to be a "loser leaves town" match between former welterweight champions, both Devon Alexander and Victor Ortiz left the ring elevated after Saturday's crossroads fight. 
Then the judges hijacked the headlines. 
The Texas boxing commission lived up to its notorious reputation as Alexander and Ortiz were awarded a questionable majority draw on judges' scores of 115-113 for Ortiz and 114-114 twice at the Don Haskins Convention Center in El Paso. CBS Sports scored the fight 117-111 for Alexander. 
In just his second fight back from a two-year hiatus, Alexander (27-4-1, 14 KOs) landed the cleaner shots throughout in an entertaining duel which evolved into an action fight thanks to consent pressure from Ortiz (32-6-3, 25 KOs). Alexander outlanded Ortiz, 155 to 132, according to CompuBox.
Both fighters successfully rebounded from disappointing slides that left their respective futures in jeopardy.
Alexander, 31, who overcame an addiction to prescription painkillers that fueled a stretch of three losses in four fights, looked crisp in countering Ortiz throughout with uppercuts and three-punch combinations. He boxed well off of his jab and made his opponent pay for overreaching. 
"I absolutely thought I won the fight," Alexander said. "The last few rounds I probably gave him, but I thought I out landed him in the 12th. I thought I did enough to win. I gave him three rounds.
"My game plan was to be smart. Victor always has problems with people that are faster and have more ring IQ. I wanted to put him in the state of mind that he can't win."
The 31-year-old Ortiz, meanwhile, was deserving of the praise he received for simply not giving up. Having built a reputation as a quitter in recent years, while juggling a burgeoning acting career on the side, Ortiz took the fight seriously and was game throughout. 
Although he squared up at times to his own detriment, Ortiz was much more responsible defensively. He started the fight by boxing smart and slowly brought the action to Alexander over the second half, which won him the favor of the judges.
"I thought the decision was a little off and I thought I did enough to win," Ortiz said. "The first few rounds were a little complicated. He's a great boxer and he was timing me just right. I wasn't leaving the line of fire.
"The eye was tough to overcome. I can't really see out of it. I really had to listen to my corner. I tried to stay composed as I could, but he's a really good fighter."
Ortiz also fought through the type of factors — including a cut on his hairline in Round 1 and a swollen left eye in Round 3 — that would've served as mental barriers in the past. Despite being outlander 136 to 114in power shots, Ortiz slowly forced Alexander off his game plan as the fight wore on. 
In the end, neither fighter was visibly rocked at any point and both traded clean shots in the final rounds to go the full distance. The one positive about the draw is that it should send both to bigger fights, including title opportunities, moving forward.