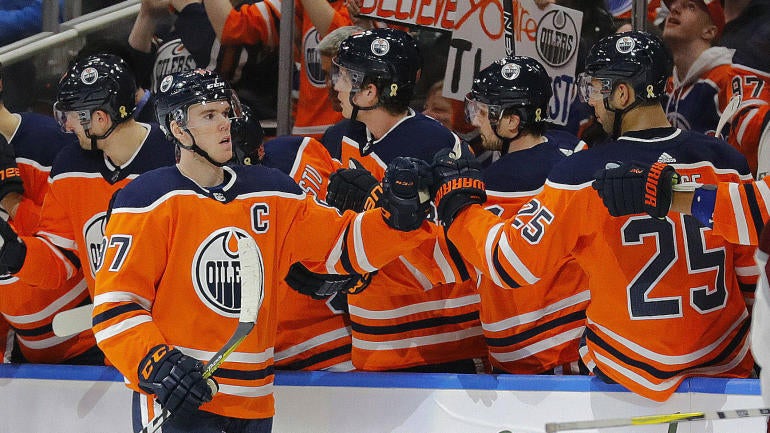 If you're wondering, Connor McDavid is still outrageously good at hockey. The 21-year-old phenom became the first Oilers player to score four goals in a game since Sam Gagner in 2012. McDavid also had an assist in the Oilers' 6-2 rout of the Lightning, giving him five points in the game.
McDavid had a ridiculous nine shots on goal for the game. His first goal came on the power play on a wicked redirect that opened up the scoring. The second came on a rush where he lifted the puck short-side over Andrei Vasilevskiy's shoulder. His third career hat trick came nearly halfway through the third period on backup goalie Louis Domingue. And finally, No. 4 came on a bizarre rebound after a 2-on-1 that Domingue was able to save. McDavid caught the stray puck on a bounce and lifted it past Domingue, completing his first four-goal performance.
It was an outstanding night for the young star. McDavid came into the night 13th in the Art Ross Trophy standings (most points). He finished the night third, only five points behind Nikita Kucherov of the Lightning. McDavid's goal numbers haven't been eye-popping this season — he had 17 entering the night — but this game proved that he is very capable of scoring in bunches fast. His play-making abilities are also well intact, as he has the chance to score 100 points on the season.
Today, Oilers fans are probably just upset that he didn't score one more. If an Oiler player scores five goals in a game (something that hasn't been done by an Edmonton player since Wayne Gretzky in 1987), then a fan has the chance to win a million dollars. The Oilers have underperformed this year as a team, but McDavid alone is worth tuning in for. He's a ridiculous player doing ridiculous things.