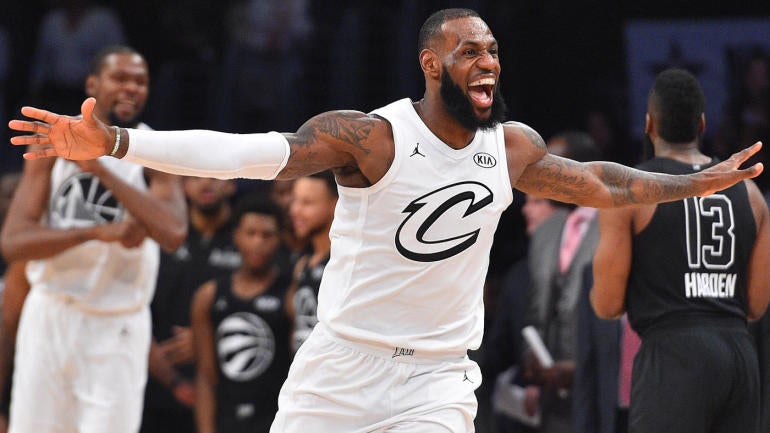 LOS ANGELES — Even in the most competitive and intense NBA All-Star Game in recent memory, LeBron James' competitiveness and intensity was stronger than that of anyone else on the court.
LeBron nearly put up a triple-double with 29 points, 10 rebounds and eight assists Sunday, and he was the clear choice to win his third All-Star MVP Award. But, according to Team LeBron coach Dwane Casey, LeBron's march to the trophy began long before tipoff.
"It's something that we talked about yesterday in practice about how we wanted to change the narrative of the approach and the description of the All-Star Game," Casey said after the game. "I thought tonight was a great one. My hat's off to LeBron and [Kevin Durant] and all the guys that stepped up, and they reiterated exactly what we talked about after we said, hey, let's change the narrative. Let's make sure we change how people look at the NBA All-Star Game."
Needless to say, the approach was a success. The defensive intensity was noticeably higher throughout the game, and the final minutes of the fourth quarter almost could have been mistaken for a heated playoff matchup. Fittingly, James was involved in three of the most important plays of the final minutes.
First, he hit a signature step-back 3-pointer to tie the game with 1:30 left to play. Then, with 34 seconds remaining, he made the basket that put Team LeBron up for good — the result of a brilliant game of hot potato that started with Russell Westbrook and ended with an assist from Kyrie Irving to LeBron, something we've seen all too many times.
"Russ was able to make one move, they switched, and Russ kind of was left up in the air," James said. "He was able to hit Kyrie on the baseline, and playing with Kyrie for so many games, you know, if I just make myself available, you know, we would find me."
But it was the game's final play, one that didn't involve LeBron scoring a basket, that truly displayed his dedication to make this year's All-Star Game different than the rest. Down by three points, Team Stephen put the ball in the hands of its captain, but Stephen Curry saw something he probably wouldn't have seen in previous All-Star Games — a full-on blitz from arguably the game's two best players.
"K.D. and Bron, they double teamed me hard and pushed me to the sideline," Curry said after the game. "Two tall giants out there not letting me shoot, I tried to make a play and it just didn't work out. So that was a tough way for our team to end the game."
Casey said that before the huge stop, LeBron took control of the huddle.
"He's a joy to coach," said Casey, who's used to being on the other end of LeBron's greatness. "He reiterates exactly what should be said, the right things. No BS. In the huddle, defensively, he got the guys jacked up and juiced up as far as wanting to get a stop."
The look on LeBron's face after the final buzzer sounded said everything about his desire — maybe even his need — to win this game.
At 33 years old and in his 15th NBA season, LeBron is still widely considered to be the best basketball player on the planet. His durability borders on freakish and his desire to keep leading his teams to the Finals — seven straight coming into this season — makes you wonder how he continues to bring the energy night after night.
You might think it has to do with the reigning King trying to fend off the ambitious, young hopefuls from usurping his throne. But LeBron says that it takes much more than that to stay at his level — he needs to do it for himself.
"Listen, I respect the younger guys, and I love them. My boys love them. They play with them in the video games," LeBron said. "I don't really take it as a young guy, okay, I need to show him that I'm still able to do this. I need to continue to show myself, you know, because every night I step on the floor I have to lead my guys or prove to myself that I'm still able to play at a high level."
That clearly includes this year's All-Star Game, where LeBron showed, once again, that when he asserts himself, there is very little that he can't accomplish.