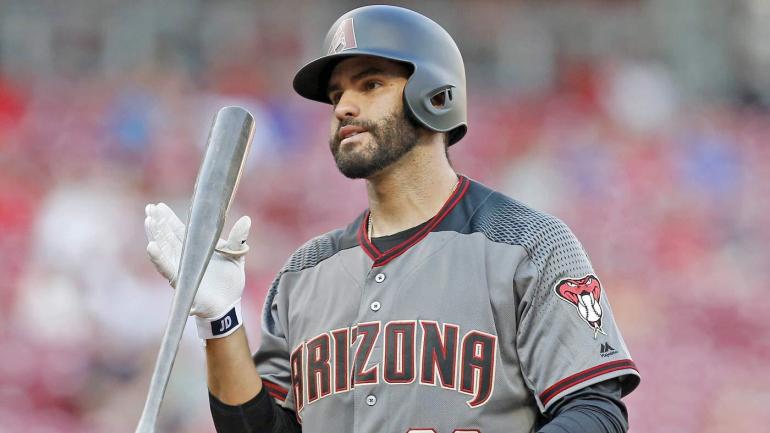 All winter long, it's felt like a fait accompli that free-agent slugger J.D. Martinez would sign with the Boston Red Sox. On Monday that came to fruition.
According to Pedro Gomez of ESPN, an agreement between Martinez and the Red Sox is "done." The deal is reportedly for $110 million over five years — notable, since earlier in the winter Martinez was said to have a five-year offer from Boston worth $125 million. The contract, like so many others signed at the top of the market this winter, includes an opt-out clause two years into it.
Martinez's arrival in Boston is a welcomed one — and an amusingly timed one, given owner John Henry's comments earlier on Monday, when he stated Boston had improved its lineup by virtue of changing coaching staffs. The Red Sox' lineup posted the worst isolated power figure in the American League in 2017. Martinez should change that while presumably seeing most of his action at DH. The Red Sox have a loaded outfield — with Andrew Benintendi and Mookie Betts flanking Jackie Bradley Jr. — so it seems unlikely, barring another move, that Martinez will see much action defensively. 
Martinez, 30, is coming off an especially productive half-season with the Arizona Diamondbacks. He's managed to hit  .296/.363/.580 over the last three seasons, marks good enough for a 148 OPS+. He's also averaged 35 home runs per season. For reference, Giancarlo Stanton, though younger and a much better fielder, has produced to the tune of a 150 OPS+ and 38 home runs annually over the same time period.
How much better are the Red Sox now? According to Stephen Oh's SportsLine projections, Boston gained about two wins, pushing its expected win total to 94 and its playoff likelihood to 82 percent — good for the fourth-best projected record in the American League. (Arizona, on the other hand, saw its chances of winning the World Series halved with Martinez's departure.)
Martinez is the third major free agent to come off the board in the past week and a half, joining Yu Darvish and Eric Hosmer, who signed with the Chicago Cubs and San Diego Padres, respectively.