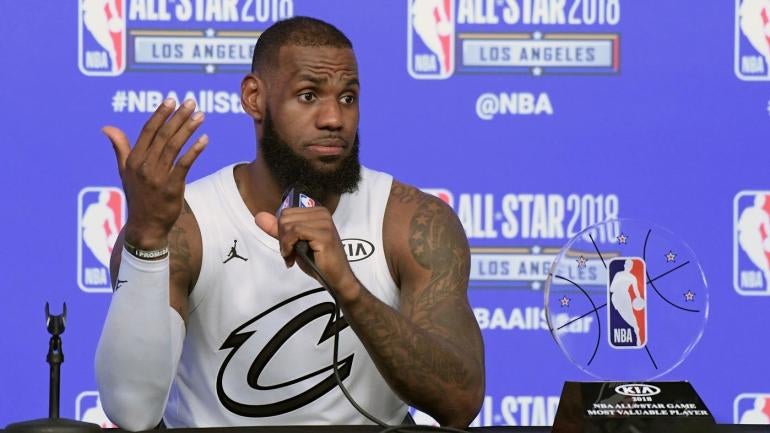 LeBron James has never shied away from sensitive issues. He's known for being an activist and uses his platform as an athlete to share his thoughts on the world. James has used that platform to criticize President Donald Trump. He once called Trump a bum for rescinding the Warriors' White House invitation. 
In a video on James website, Uninterrupted, he once again fired criticism at Trump. James said that Trump "doesn't give a f— about people." This led to backlash from many of the president's supporters including Fox News pundit Laura Ingraham. On television, she said that James needs to just "shut up and dribble" instead of criticizing Trump.
Kevin Durant called her response racist. James said in the lead-up to the NBA All-Star Game that her comments just gave him a chance to create more awareness.
After being named MVP of the All-Star Game for the third time in his career, James was asked by the "NBA on TNT" crew about her comments. James explained to them why he will not "shut up and dribble."
"I will not shut up and dribble. I owe it to my peers. I owe it to my fans. I owe it to the youth. I owe it to ya'll and everybody that has laid the path for me to get to this point. I was down courtside and we had a timeout, and I glanced over and I saw Dr. J (Julius Erving), Kareem (Abdul-Jabbar), Bill Russell, and Jerry West and I just thanked them. The Big O (Oscar Robertson) was not here and I thank him too. We all know what Kareem and Russell went through in a time where whatever they said was, 'mo, you're not allowed to say that. Shut up and dribble.' I can't sit here and allow that to happen because of what they went through. It would have been the same as telling Jackie Robinson to shut up and slide into home base, or Jesse Owens to shut up and just go triple jump. I can't do that because of so many people that's looking up to me. There's so many that's going to come after me so I got to continue the path."
As long as James has a voice and a platform he will continue to use it. That's just the type of player he is. It's just like he said. This won't be the last time he comments on social issues he believes in.