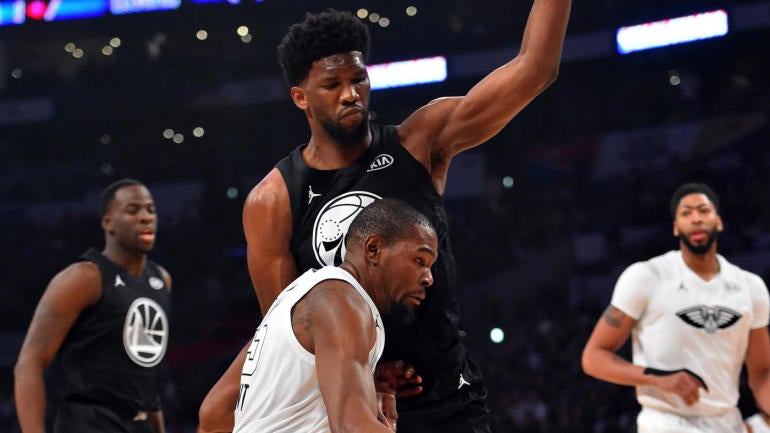 LOS ANGELES — Joel Embiid got got once. It came at the hands of LeBron James, the best player in the world and the 2018 NBA All-Star Game MVP. And it was a step-back 3-pointer — not exactly the kind of shot you're most worried about from James.
So, OK, he got got. Once. But Embiid was perhaps the standout player from Team Stephen, even in a 148-145 loss. He finished with 19 points, eight rebounds and two blocks in 20 minutes — and he was the only starter on his team to finish positive in plus-minus.
Mostly, though, he stood up tall against the little — err … slightly skinnier? — guys. Late in the game, James, Paul George and Kevin Durant tried to isolate against Embiid, but the 7-foot center for the 76ers hung with them step for step. 
"They were (going at me), but I think I did a pretty good job," Embiid said. "I feel like I'm the best defensive player in the league, so if you want to attack me, good luck."
Even Russell Westbrook tried and failed.
It's the type of momentum that we've seen with these "unicorns" like Embiid, Kristaps Porzingis and Karl-Anthony Towns. All-Star Weekend saw the reality of big men who move like guards with a pair of skills contests won by Porzingis (2017) and Towns (2016), and now they've hit the All-Star Game itself — all three were first-time selections, though Porzingis couldn't play.
"(Embiid) was doing a great job," said Towns, who was on Team Stephen with Embiid. "We had a mismatch, and they understood that we had a mismatch. And we were very fortunate to have him."
The mismatch went both ways, after all.
Injuries to Porzingis, DeMarcus Cousins and Kevin Love somewhat forced Team LeBron to play small-ball, but we're seeing a shift — small-ball is getting bigger.
"It's great to see the big men evolving into something much bigger," Towns said. "The game evolving, we have to evolve, too. We've been asked to do more. Back in the day, big men were asked to control the paint. Now we're asked to control the paint and play on the perimeter as well."
On Sunday, Embiid showed us a bit of everything.