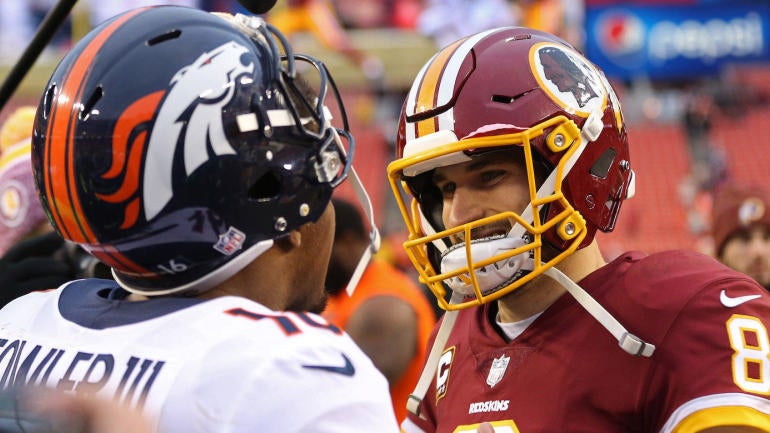 The NFL is on the precipice of a delightful offseason which will feature tons of quarterback movement, unlike anything we have ever seen thanks to a unique group of free-agent quarterbacks and a loaded quarterback draft class. 
The game of dominos starts with Kirk Cousins, a free-agent unicorn, and what happens when he hits the open market. The Redskins could theoretically still tag him (beginning on Feb. 20) but it would be a pure petty play by Washington if they go that route and Cousins will fight the process in expedient fashion.
Washington traded for Alex Smith and it should mean Cousins walks into the open market. When he gets there, he will find piles of money waiting from multiple teams. 
One of those teams, the New York Jets, is willing to "pay whatever it takes" to get Cousins, according to Rich Cimini of ESPN.
"It's simple: Get Cousins. The Jets want him badly, and sources say they're willing to pay whatever it takes — unless the Washington Redskins decide to tag him for a third time [unlikely]," Cimini writes Monday. "Money aside, the Jets hope to convince him he'll have a chance to win in New York."
The cash here is pretty easy. The Jets are going to have about $100 million in cap space when they start chasing a quarterback — we'll know for sure once they move on from Muhammad Wilkerson and the actual number is released, but they will not be short on money. 
Selling Cousins on the Jets being good should be more difficult. New York has won more than 10 games just three times since Herm Edwards was coaching the team, although they made back-to-back AFC Championship games under Rex Ryan in 2009 and 2010. The division isn't the most well rounded, but the Bills look like an improved franchise with Brandon Beane/Sean McDermott (and they will be in the quarterback business as well) and the Patriots remain the Patriots. The Dolphins are TBD. 
Perhaps they tell Cousins they're willing to spend big on some weapons as well, like a Jarvis Landry-type in free agency. They have the No. 6 pick, which could be used on a defensive upgrade (Roquon Smith) or a wide receiver (Calvin Ridley) or protection (Quenton Nelson) or even a running back (Saquon Barkley). Complementing Cousins with one of those high-level talents and spending in free agency to build around him could make the Jets' offense interesting out of the gate in 2018.
Or the Jets can trade down. Once they have the quarterback, everything is a little bit easier. 
Selling Cousins on the system shouldn't be hard: offensive coordinator Jeremy Bates worked under Mike Shanahan in Denver, which will give Cousins familiarity with the system. You could argue the New York market might not be fun if things aren't immediately smooth, but Cousins has been in Washington since he was drafted. He is quite used to the microscope. 
Cousins has indicated he is more willing to win than he is to maximize his money. Or at least he might take less money in order to play for a contender. But when you start doing the math, it is difficult to imagine him leaving a bunch of money on the table. If the Jets offer him something in the range of five years and $150 million — or maybe higher should there be multiple suitors — Cousins would be hard-pressed to take something like five years, $120 million from the Vikings (or whoever). No one is leaving $30 million on the table. 
If money ultimately wins out here, and money very often wins out, then the Jets may have the advantage in chasing Cousins because of their willingness to spend.