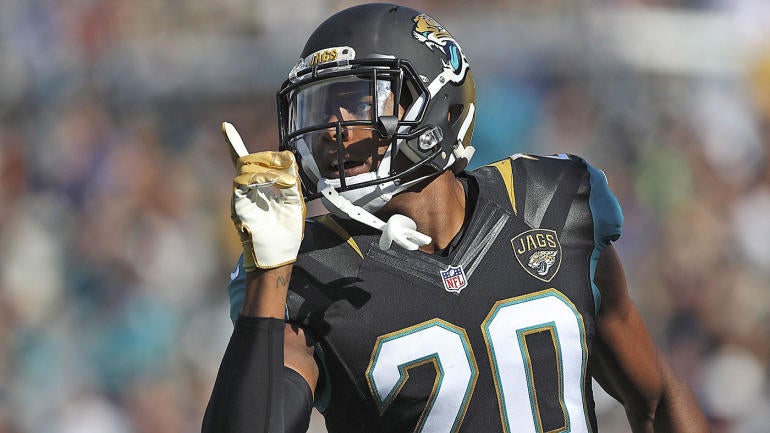 Jalen Ramsey is known for being one of the game's best cornerbacks as well as one of the game's loudest players. Even though it's the offseason, Ramsey is still at it. This time, instead of trash talking an opponent, he's using his voice to make sure his teammate and soon-to-be free agent, Allen Robinson, doesn't become a future opponent.
On Monday, Ramsey tweeted at the Jaguars' official Twitter account begging them to "do the right thing" when it comes to Robinson.
He didn't stop there, telling the team to also pay cornerback Aaron Colvin.
Let's start with Robinson, who missed pretty much the entire 2017 season with a torn ACL. Robinson is the best receiver on the Jaguars' roster — from 2014-16, he totaled 201 receptions for 2,831 yards and 22 touchdowns (with Blake Bortles as his quarterback) — and should garner plenty of interest from WR-needy teams. But there's always the chance that teams will be afraid to give him a long-term deal due to his injury. On his part, Robinson doesn't think the injury will impact his free agency, but it's safe to assume he won't be making as much money as he would've if he had played and thrived during the 2017 season.
Robinson is still only 24. The Jaguars need receivers. That's why it wouldn't be surprising to see them hang onto him. But money matters. Of course, the Jaguars might just end up franchise tagging Robinson. ESPN's Mike DiRocco predicted that the Jaguars will use the tag on him if they can't come to an agreement. If he does hit free agency, Robinson will be the most talented receiver on the open market. It's easy to see why Ramsey doesn't want to see him walk out the door.
As for Colvin, he seems to be more likely to depart in free agency. The Jaguars already have two incredible cornerbacks in Ramsey and A.J. Bouye, who they signed in free agency a year ago. Can they really commit big money to a third cornerback? Colvin, who primarily operated in the slot, didn't notch an interception in 2017 and allowed a 83.9 passer rating when targeted in coverage, which ranked 48th out of 86 qualified cornerbacks, according to PFF. There's a very real chance someone will offer him a starting job with more money. So, it appears to be unlikely the Ramsey gets both of his wishes. 
No word yet on what Ramsey wants the Jaguars to do with Bortles.