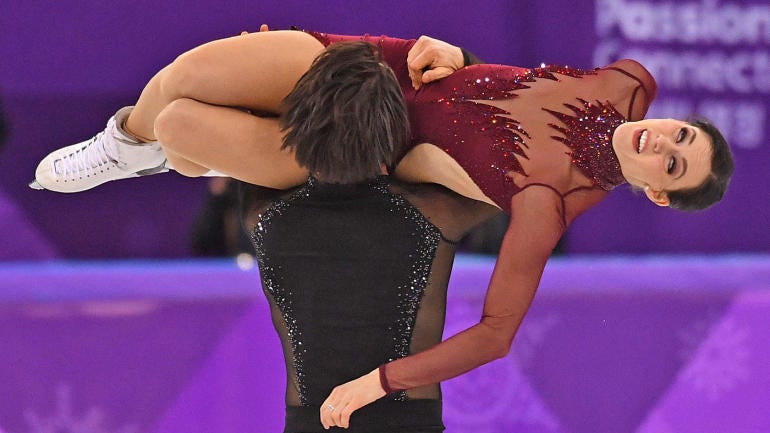 Sublime. Smoldering. Tear-jerking. Pick an adjective, any adjective, and that was Monday's night's primetime finale on NBC to decide the gold medal in Olympic ice dancing. Here's another: historic. Canadians Tessa Virtue and Scott Moir, who have been skating as partners for more than two decades, become the most accomplished figure skaters in Olympic history with their third gold medal and fifth overall with a combined score of 206.7. 
The pair saved the best for last, edging out their training partners and fiercest rivals, Gabriella Papadakis and Guillaume Cizeron of France, while dancing to the music of "Moulin Rouge." 
Papadakis and Cizeron, who skated through an embarrassing wardrobe malfunction in Sunday night's primetime short dance, were emotionally drained after their performance. They broke their own world record for a free dance with 123.35 points and were in first, with a combined score of 205.28, before Virtue and Moir took the ice. 
But leaving Virtue and Moir with one final skate to beat their own best score by 3.28 points is like leaving Tom Brady two minutes to win a football game. The Canadians' score of 122.40 points gave them their historic fifth Olympic medal and pushed them past Russia's Evgeni Plushenko and Sweden's Gillis Grafstrom for most among figure skaters.
Meanwhile, the viral American skating couple of siblings Alex and Maia Shibutani  — better known as the ShibSibs — took the bronze, edging out fellow Americans Madison Hubbell and Zach Donohue, who had a slight mistake near the end of their program that left them off the podium. Hubbell and Donohue were third after the short dance.