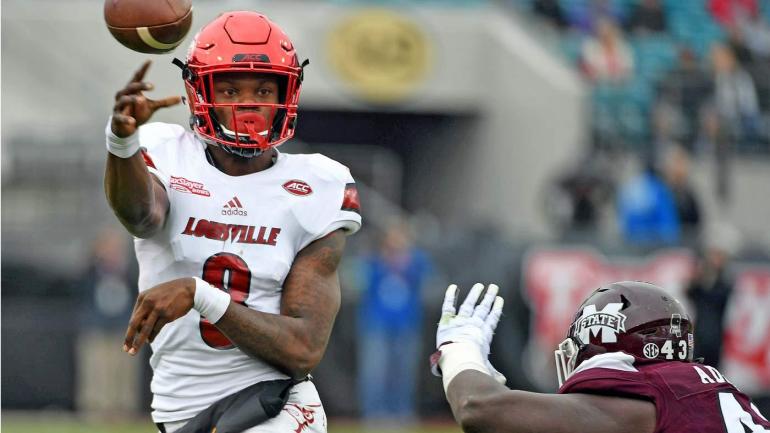 There is about to be an unholy amount of fire-breathing takes surrounding the quarterbacks in the 2018 NFL Draft class. Not even kidding: Between Josh Allen, Baker Mayfield and Lamar Jackson, we are going to get every take under the sun and some born straight out of that fire-breathing ball of gas.
It has begun in earnest already, with former Colts general manager and Pro Football Hall of Famer Bill Polian appearing on ESPN Radio's "Golic and Wingo" and stumping for Lamar Jackson to make the move to wide receiver before the combine. 
Polian was asked specifically if Jackson needs to be a wide receiver or quarterback and went with wideout because "the accuracy isn't there" and Jackson is "short" and "slight." 
"I think wide receiver. Exceptional athlete. Exceptional ability to make you miss. Exceptional acceleration. Exceptional instinct with the ball in his hand — and that's rare for wide receivers," Polian said. "[Antonio Brown] and who else? Name me another one who's like that. Julio [Jones]'s not like that. This guy is incredible in the open field. Great ability to separate. Short and a little bit slight and clearly, clearly not the thrower the other guys are. 
"The accuracy isn't there. Don't wait to make that change. Don't be like the kid from Ohio State [Terrelle Pryor] and be 29 when you make that change."
Fun fact: Terrelle Pryor isn't even 29 yet. So that's a miss on Polian's part. He did wait until he was 26 to make the move, and that's late in his career to do so, but he wanted to be a quarterback and gave it his best shot. 
It's odd that Jackson would be called "short" when a) he's 6-feet-3 and b) you want wide receivers to be tall. Also, it would probably behoove Polian not to praise Josh Allen too much in this process if accuracy is going to be an issue. 
Jackson is probably not a plug-and-play starter in the NFL — as CBS Sports analyst Danny Kanell noted, he's really more of "a project," but he is definitely someone with upside. Perhaps the "next Mike Vick"?
"If I was in the second round and Lamar Jackson was still on the board, I would snatch him up in a hurry. He is the next Mike Vick. He is Michael Vick 2.0," Kanell said. "We've seen him light up the college football world when he won the Heisman Trophy two years ago. His play was actually better than his Heisman Trophy season, this past year for Louisville. But unfortunately his team didn't have as much success so he was knocked a little bit. He is definitely a project — he's got to tighten things up, he's got to improve his accuracy. 
"But just from a sheer play-making standpoint he is a one-man highlight machine who can generate offense with literally nothing around him. I think the upside is huge and if you get him in the second round I think it's well worth the risk."
Again, there is a wide disparity of opinions about Jackson, and others in this quarterback class. No one can definitively say Jackson is going to be a bust or that Jackson is going to be great. He has a freakish arm in terms of throwing ropes down the field and can do it while on the run. And when he gets in the open field he can destroy defenders with his legs. From that perspective he definitely reminds you of Vick. 
Maybe he is, as Polian admitted, one of the exceptions to the rule that you can't win running the ball with your quarterback in the NFL. The former GM did admit he could be wrong and is rooting for Jackson to succeed as a quarterback. 
"I could be wrong on him, and I hope I am. I hope he succeeds as a quarterback. But I also go back to, if he's going to miss, why is he going to miss. You don't make a living as a quarterback running in the National Football League," Polian said. "Cam [Newton] is the exception. You try to take exceptions and say they're the rule: they're not. Bill Parcels taught me that a long time ago. Parcells often said, if you have one or two exceptions on your team, you'll end up with a team full of exceptions. You can't make a living with those guys. You get one every now and then but it's hard to do it."
Vick was the exception too. The issue for whoever drafts Jackson is there will be a high cost (probably a first-round pick, but second round is on the table) and there will be high interest in seeing him play quickly, even if that's not the best thing for him. And this is why the wide receiver argument doesn't make sense: why would Jackson switch positions to a spot he doesn't play ahead of the draft when he is likely to be a Day 2 pick at worst? Saying he will only play wide receiver would hurt his stock and doesn't make much sense. It's not the same as saying he would be willing to play wideout if the team that drafted him needed him to do it. 
Jackson is a special talent who improved on a breathtaking season when he won the Heisman Trophy. Just like a lot of quarterbacks who are taken in the draft, it could come down to who takes him and where he's taken much more than even his own individual talent. 
We have multiple months until the draft. Prepare your hot take cannons appropriately.