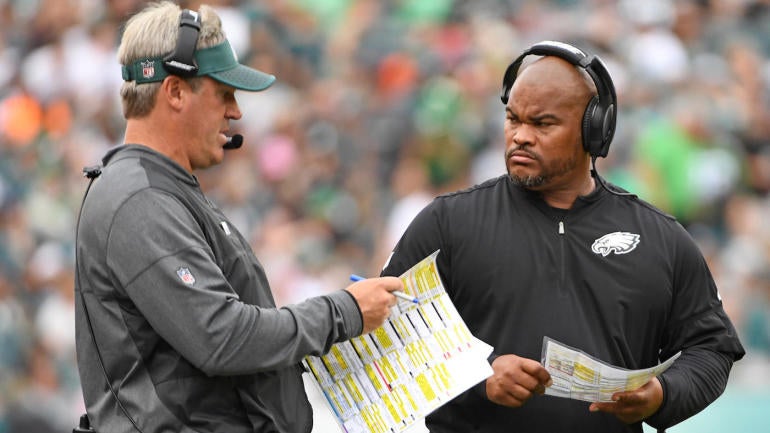 The Eagles thought they dodged a bullet when every team in need of a head coach passed on hiring their offensive coordinator, Frank Reich, but Josh McDaniels' last-second decision to spurn the Colts ended up screwing them over. The Colts then hired Reich as their new coach, which means the Eagles are in need of a new offensive coordinator. Quarterbacks coach John DeFilippo would've made the most sense, but he already got hired away by the Vikings to be their offensive coordinator.
On Monday, two internal candidates emerged. According to ESPN's Tim McManus, coach and play-caller Doug Pederson will interview running backs coach Duce Staley and wide receivers coach Mike Groh on Monday.
McManus wrote that Pederson considered not hiring anyone, but "is now leaning toward having an OC." The Eagles don't have any plans to speak with anyone else as of Monday, McManus reported. So, it'll likely be Staley or Groh.
Groh is the newcomer, having joined the Eagles' staff for the 2017 season. Prior to landing in Philadelphia, he worked as the receivers coach for the Rams in 2016, the Bears from 2013-15, and Alabama from 2011-12. In those stops, he got a 1,000-yard season out of Kenny Britt even though he resided in the Rams' "middle-school offense" and he developed Alshon Jeffery — then with the Bears — into a top receiving threat. With the Eagles in 2017, Groh helped Jeffery transition to a new team and he also turned Nelson Agholor into an NFL-caliber slot receiver after his career began with two disappointing seasons.
Staley, on the other hand, has been with the Eagles for a while. He's been an assistant since 2011 and the running backs coach since 2013. This past season might've been one of his best coaching years, as LeGarrette Blount saw tremendous improvement in his efficiency, Jay Ajayi rejuvenated his campaign after a mid-season trade, and Corey Clement and Wendell Smallwood turned into key contributors. Before coaching, Staley played running back for the Steelers and Eagles. He ranks fifth on the Eagles' all-time rushing leaderboard.
Whoever lands the job will face a difficult challenge in filling Reich's shoes, but as previously noted, the new offensive coordinator won't have to call plays. Those responsibilities still lie with Pederson. Furthermore, the lucky coach who becomes offensive coordinator can expect to see his name mentioned as a possible head coaching candidate in the future assuming the Eagles' success on offense continues after a Super Bowl season.