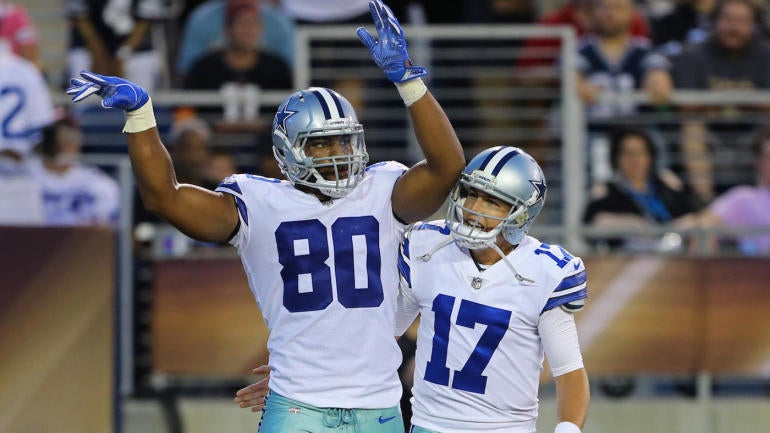 When the Cowboys used a sixth-round pick on Baylor basketball player Rico Gathers in 2016, they placed a low-stakes bet on Gathers' ability to transfer his athleticism from basketball to football. After two seasons, Gathers has yet to play in an NFL game, but his ambitions haven't dwindled away. He still believes in his ability to develop into an elite tight end.
Over the weekend, Gathers declared on Instagram that he's going to be "the next best tight end in this league."
Here's the entire caption:
Facts is facts. It's only the beginning. Truth is I'm Ready for more. Been ready for more. The dilemma of me not being ready is over. I got a piece of it last year and it felt so good doing it, y'all will never understand that feeling. It was like the most epic scene of movie before the power goes out in ya house for a few hours and you forget all about what you was watching. I watched those two games the other day and I told myself "Ima be the next best tight end in this league" and I believe that with all my heart. lol y'all continue to hate while I continue to shine I love y'all, y'all make me better. God Knows my heart and that's all that counts to me. #Blessed #HumbleandHungry #LemmeEat#IWantTheWholePieThisTime#NewSZNSameRZN #killeverything
The two games he's referring to? Two preseason contests from last summer when he hauled in seven passes for 106 yards and two touchdowns, showing off his athleticism that led the Cowboys to draft him.
But as previously mentioned, Gathers has never played in a regular-season game. He spent the 2016 season on the Cowboys' practice squad, which wasn't all too surprising given his lack of experience. He played college basketball at Baylor, not college football. After his promising start to the 2017 preseason, he spent the season on injured reserve with a concussion.
The 2018 season would be a good time for Gathers to begin his ascent. While future Hall of Famer Jason Witten is still productive, he's getting up there in age (35) and he's averaged only 9.3 yards per catch over the past three seasons. With WR1 Dez Bryant in the midst of a rut, the Cowboys' need for a dangerous playmaker has intensified. So, Gathers should sense an opening.
But again, given his lack of experience, it's unreasonable to expect Gathers to become that playmaker in his first real season. Nobody should mock Gathers' confidence, but nobody should expect him to actually follow through by becoming the game's greatest tight end, at least not immediately. For now, the Cowboys would settle for a red-zone threat that is capable of becoming their second tight end so that when Witten does retire, they'll have a succession plan. Gathers has already said that he believes he is the "heir apparent to Jason Witten."
To do that, he'll need to prove that he's made the transition from basketball to football. And to do that, he'll need to play in an actual game.