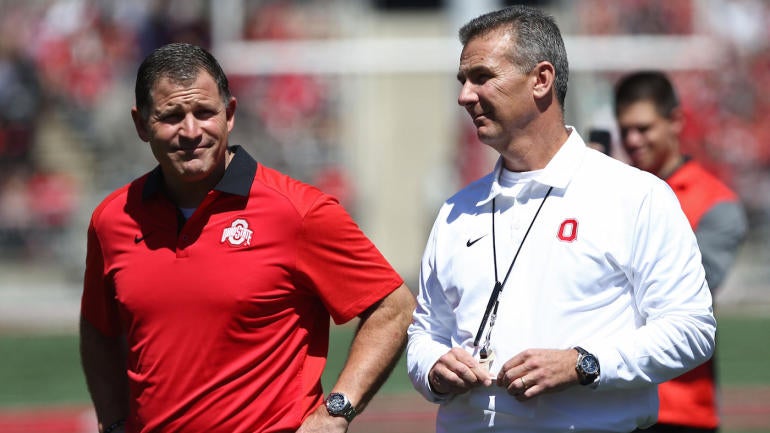 The returns are in. We know what teams won on National Signing Day. We know what teams lost. The rankings are locked. But lost in the madness of the recruiting cycle is the concept that these classes don't just come together on their own. It takes assistant coaches that build relationships and grind on the recruiting trail to pull in top classes within a brutally competitive environment.
In the 2018 recruiting cycle, these assistant coaches were the big-game hunters, the best of the best.
Via the 247Sports Recruiter Rankings
1. Dell McGee, RB coach, Georgia
The 247Sports Team Recruiting Rankings archive extends back to 2002. Within that historical context, Georgia's 2018 class is the third-highest ranked of all time and no assistant coach had a bigger hand in that run than McGee. A former high school coach at Columbus Carver in southern Georgia, McGee leaned on that background to pull in-state five-star quarterback Justin Fields, in-state five-star defensive end Brenton Cox and out-of-state running backs Zamir White and James Cook. McGee was the primary recruiter on the No. 1 dual-threat quarterback, No. 1 running back, No. 3 all-purpose back and No. 2 strong-side defensive end in the country.
2. Greg Schiano, co-defensive coordinator, Ohio State
Greg Schiano holds a reputation as a coach first and foremost, but he recruited like it was his livelihood in the 2018 cycle. He was outstanding in the northeast as the primary recruiter to the No. 2 tight end in the country in Jeremy Ruckert, the No. 1 center in Matthew Jones and a senior riser in Javontae Baptiste that Ohio State had to hold off Nebraska and Texas A&M to secure. But Schiano's legacy in this class will be No. 1 offensive tackle Nicholas Petit-Frere. Schiano's time with the Tampa Bay Buccaneers offered him an 'in' with Petit-Frere's Berkley Prep school in Florida and he capitalized, beating Florida, Notre Dame, Alabama and Michigan for the most highly-recruited lineman in the 2018 cycle.
3. Jason Washington, CB coach, Texas
It was a good year to be a defensive backs coach in the state of Texas if you were a good enough recruiter to capitalize. According to the 247Sports Composite rankings, there were six defensive backs out of Texas ranked in the national Top100. 247Sports ranked three defensive backs within the five-star ranks alone. Washington was the primary recruiter on two of those five stars in CB Jalen Green and S Caden Sterns. He was also the primary recruiter on another four-star cornerback in D'Shawn Jamison and four-star wide receiver Joshua Moore. That group powered Texas' best recruiting class since 2012.
4. Sam Pittman, OL coach, Georgia
Maybe the most compelling evidence that Georgia is here to stay as a national power is what Pittman is doing on the offensive line from a recruitment and development standpoint. This cycle, Pittman landed the nation's No. 1 offensive guard in Jamaree Salyer and the nation's No. 3 offensive tackle in Cade Mays — both are five-stars according to the 247Sports Composite rankings. He was also the primary recruiter on the No. 3 offensive guard in Trey Hill and the No. 5 center in Warren Ericson. And how about a sleeper to throw in the mix? 6-foot-7 offensive tackle Owen Condon out of Oklahoma doesn't have as much hype as the others, but he is the real deal. Pittman put together a big, strong, nasty group of linemen and the best OL class in the country.
5. Tony Alford, RB coach, Ohio State
Ohio State is not going to lack for running back depth or talent with Alford on staff. One year after securing freshman All-American JK Dobbins out of Texas, Alford brought in three different elite, four-star backs in this 2018 cycle. He landed Jaelen Gill out of Ohio who has slot, all-purpose type of ability. He landed Brian Snead out of the Tampa area as a guy that has as much burst as any back in the class. He also landed Master Teague out of Murfreesboro, Tennessee, who, if he stays healthy, has the most physical upside as all of them. For good measure, Alford also was the primary recruiter on the No. 4 weakside defensive end in the country in Cleveland-native Tyreke Smith.
6. Johnny Nansen, LB coach/recruiting coordinator, USC
In his first two years at USC, Nansen coached running backs. He's coached linebackers the last two seasons and he made sure that this year's recruiting class beefed up that room.  Powered by a strong linebacker year out west, Nansen may have pulled together the best class at the position in the country. Five-star linebacker Palaie Gaoteote, four-star linebackers Kana'i Mauga and Solomon Tuliaupupu and former Oregon commit Eli'Jah Winston are all guys he ran point on in bringing to his unit. He's also helping the rest of the defense with speedy edge rusher Abdul-Malik McClain and dynamic safety Talanoa Hufanga. Nansen was outstanding recruiting the Polynesian community and that success should pay further dividends in future recruiting classes.
7. Jeff Scott, co-offensive coordinator/WR coach, Clemson
There's not a better resume right now nationally coaching the wide receiver position than Scott. If we're talking battles won on the recruiting trail and talent produced at the position, Scott is turning into THE name at the position. This year, he was the primary recruiter on Derion Kendrick, one of the most explosive athletes in the nation, as well as barrel-chested four-star defensive tackle Josh Belk. But Scott's most impressive pull was to go into the state of Alabama and land 6-foot-4, four-star wide receiver Justyn Ross — a guy who was a high priority for both in-state powers Alabama and Auburn. It's the first time the No. 1 player in Alabama has left the state since Jameis Winston in 2012.
8. Tosh Lupoi, outside LB coach, Alabama
Alabama didn't close in quite the same impressive fashion as we're used to, but Lupoi still held up his end of the deal. The ace recruiter continues to make Alabama a huge presence out west and this year he landed four-star offensive guard Tommy Brown out of California and athletic defensive end Cameron Latu out of Utah to keep that presence strong. He also landed defensive lineman Stephon Wynn out of Florida and was the lead recruiter on dynamic slot receiver Jaylen Waddle out of Texas. This is the third consecutive year that Lupoi has finished inside the national Top 10 in the recruiter rankings.
9. Glenn Schumann, inside LB coach, Georgia
The third University of Georgia coach in the top 10, Schumann was instrumental in two of the biggest signing day flips in the country. He flipped Otis Reese, a four-star linebacker that had been committed to Michigan for over a year, as well as Quay Walker, a four-star linebacker that had been committed to Alabama since the summer. Schumann was also the primary recruiter on Channing Tindall, a four-star linebacker out of Will Muschamp's backyard in Columbia, South Carolina. Only 27-years old, Schumann is the youngest Top 10 recruiter by nearly 10 years.  
10. Mike Elko, defensive coordinator, Texas A&M
When Elko was hired at Notre Dame one year ago, the response by most fans was universally: "he looks like he can coach, but can he recruit?" With a background of coaching at places like Wake Forest and Bowling Green, Elko was an unknown on the recruiting trail, but in one year at Notre Dame and about four weeks at Texas A&M, Elko proved he's the real deal in that realm too. Before he left Notre Dame, Elko oversaw the signings of four-star linebacker Shayne Simon, four-star safety Derrik Allen and three-star defensive tackle Ja'Mion Franklin. During his short stint at A&M, he secured four-star safety Leon O'Neal Jr., and he's already locked up the top safety in 2019 for the Aggies in Brian Williams out of Dallas.