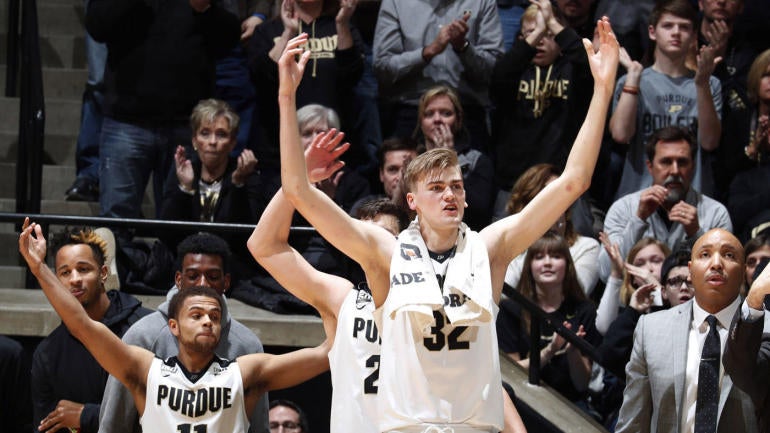 The big game Sunday was Wichita State's 76-72 road win at Cincinnati, which was the Shockers' biggest victory of the season. Before that, their best win was against Houston, a team the Shockers split with home and home. Houston at home is still Cincinnati's best win, and you could reasonably argue that the Bearcats' four losses have come in their four toughest games.
Wichita State's win, combined with Ohio State's loss at Michigan, resulted in a seed switch for those two teams. The Shockers have moved up to the No. 4 line, while the Buckeyes drop down to a No. 5 seed.
Purdue announced Sunday afternoon that its best player, senior forward Vincent Edwards, would miss Sunday night's game with Penn State after spraining his left ankle in practice Saturday. Edwards is questionable for the two games this week as well.
It was a perfect opportunity for Penn State, which has surged onto the bubble, if not the bracket, to pick up a huge win at Mackey Arena against the Boilermakers. The Nittany Lions came up just short in a 76-73 loss. That loss is not fatal for Penn State's tournament hopes, but it puts more pressure on the game with Michigan this week and the season finale at Nebraska.
Purdue's win coupled with Cincinnati's loss resulted in those two teams switching seeds as well. The Boilers are back on the No. 2 line while the Bearcats have dropped to a No. 3 seed.
Speaking of Nebraska, the Cornhuskers fell at Illinois 72-66 to further damage their already sketchy tournament résumé. The loss to the Illini is Nebraska's worst of the season and first in Quadrant 3. The Huskers need quality wins but cannot get those until the Big Ten Tournament.
Syracuse and St. Bonaventure were the big winners among the bubble teams this weekend. On Friday, the Bonnies took down Rhode Island, which was the kind of win missing from their tournament résumé. Syracuse won at Miami on Saturday, which actually helped not just the Orange, but St. Bonaventure too. The Bonnies won at Syracuse earlier this season. Both teams are in the bracket for now.
Butler picked up a victory over Providence on Saturday, but is still among the last four in the field. Despite having a lot of games against tournament quality teams, they now have just three wins, and only one away from home. Obviously, the win over top-seeded Villanova is huge, but that 3-8 record vs. the field and two other losses, including the clunker at home to Georgetown, has their spot in the field in some jeopardy. Butler's remaining games are no cakewalk either. The Bulldogs have Creighton at home, then finish at resurgent St. John's and Seton Hall.
Conference breakdown
Bubble Watch
In for now
| Team | RPI | SOS | Next game |
| --- | --- | --- | --- |
| Alabama (17-10) | 33 | 13 | Feb 21, 8:30pm ET @ Auburn |
| Arkansas (19-8) | 25 | 45 | Feb 20, 9:00pm ET vs Kentucky |
| Florida St. (19-8) | 45 | 70 | Feb 25, 6:00pm ET @ NC State |
| Houston (21-5) | 19 | 83 | Feb 22, 9:00pm ET @ Memphis |
| TCU (18-9) | 22 | 12 | Feb 21, 8:00pm ET @ Iowa St. |
| Texas A&M (17-10) | 21 | 6 | Feb 20, 7:00pm ET vs Miss. State |
On the fence
| Team | RPI | SOS | Next game |
| --- | --- | --- | --- |
| Kansas St. (19-8) | 56 | 71 | Feb 21, 9:00pm ET vs Texas |
| Miami (Fla.) (18-8) | 37 | 56 | Feb 19, 7:00pm ET @ Notre Dame |
| Middle Tenn. (22-5) | 23 | 92 | Feb 24, 7:00pm ET vs UAB |
| NC State (18-9) | 59 | 63 | Feb 20, 7:00pm ET vs Boston College |
| Providence (17-10) | 36 | 20 | Feb 21, 6:30pm ET vs Seton Hall |
| UCLA (19-8) | 48 | 65 | Feb 22, 9:00pm ET @ Utah |
| Va. Tech (19-8) | 55 | 82 | Feb 21, 7:00pm ET vs Clemson |
Work to do
| Team | RPI | SOS | Next game |
| --- | --- | --- | --- |
| Baylor (17-10) | 46 | 25 | Feb 20, 7:00pm ET vs W. Virginia |
| Boise St. (21-6) | 52 | 121 | Feb 21, 9:00pm ET @ Colorado St. |
| Butler (18-10) | 39 | 23 | Feb 20, 7:00pm ET vs Creighton |
| Florida (17-10) | 63 | 42 | Feb 21, 9:00pm ET @ Tennessee |
| Georgia (15-11) | 66 | 45 | Feb 21, 6:30pm ET @ S. Carolina |
| Louisville (18-9) | 51 | 37 | Feb 21, 9:00pm ET @ Duke |
| Marquette (15-11) | 57 | 15 | Feb 21, 8:30pm ET vs St. John's |
| Nebraska (20-9) | 60 | 98 | Feb 20, 9:00pm ET vs Indiana |
| New Mex. St. (22-5) | 47 | 136 | Feb 22, 9:00pm ET vs Chicago St. |
| Penn St. (19-10) | 76 | 88 | Feb 21, 7:00pm ET vs Michigan |
| St. Bona. (20-6) | 27 | 89 | Feb 21, 7:00pm ET vs Duquesne |
| Syracuse (18-9) | 38 | 27 | Feb 21, 7:00pm ET vs N. Carolina |
| Temple (15-12) | 44 | 9 | Feb 25, 2:00pm ET vs UCF |
| Texas (16-11) | 52 | 17 | Feb 21, 9:00pm ET @ Kansas St. |
| USC (19-9) | 41 | 51 | Feb 21, 10:30pm ET @ Colorado |
| Utah (17-9) | 50 | 66 | Feb 22, 9:00pm ET vs UCLA |
| Washington (18-9) | 49 | 38 | Feb 22, 9:00pm ET @ Stanford |
| Western Ky. (20-7) | 58 | 103 | Feb 22, 8:00pm ET vs Charlotte |