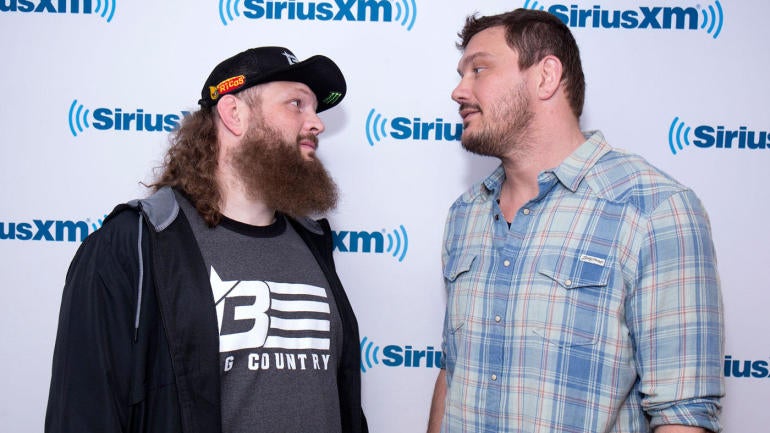 When the bracket was announced for Bellator MMA's World Grand Prix heavyweight tournament, the eight-man field revealed a mixture of fighters boasting everything from celebrity (Chael Sonnen) and legend (Fedor Emelianenko) to previous UFC title glory (Frank Mir and Quinton "Rampage" Jackson). 
The tournament, designed to fill Bellator's vacant heavyweight championship, also featured some of the promotion's top light heavyweights, including current champion Ryan Bader. When it came time for oddsmakers to tab the tournament's betting favorite, however, journeyman heavyweight Matt Mitrione received the nod. 
Mitrione (12-5), who sought free agency in 2016 after a 9-5 run with UFC that never led to a title shot, may have held the distinction of being the one true heavyweight in the field who was closest to his actual fighting prime. Yet, the acknowledgement of his danger to the rest of the field, despite being 39, also spoke volumes about his evolution after getting a late start in MMA.
A former NFL defensive lineman, Mitrione made his pro debut at age 31 during the 2009 finale of UFC's "The Ultimate Fighter: Heavyweights" season. A 6-foot-3 southpaw with a background in karate, Mitrione's awkward style has slowly evolved as contemporaries his age with more mileage accrued have begun to fade. 
Mitrione, who faces fellow UFC veteran Roy "Big Country" Nelson in Friday's rematch, has no problem entering their first round matchup at the Mohegan Sun Casino in Uncasville, Connecticut (Paramount Network, 9 p.m. ET), as the tournament favorite. 
"I don't really see that as any pressure, to be honest," Mitrione told CBS Sports during Monday's appearance on the "In This Corner" podcast. "Why should it be? I'm the best heavyweight in Bellator, so why should there be any pressure that I feel from that? On top of that, I feel that if I'm asking for the torch to carry for Bellator, then something as simple as being the odds favorite shouldn't be any type of pressure at all.
"If that's who people want to put their money on, it's a very smart bet. You're going to win your mortgage money. If you want to put your rent money on someone else, than it's going to be what it's going to be and you're probably going to lose it. It's going to be a rough go."
Bellator 194 fight card
| Favorite | Underdog | Weightclass |
| --- | --- | --- |
| Matt Mitrione -190 | Roy Nelson +155 | Heavyweight |
| Patricky Pitbull -240 | Derek Campos +190 | Lightweight |
| Liam McGeary -125 | Vadim Nemkov -105 | Light heavyweight |
| Heather Hardy -360 | Ana Julaton +270 | Women's flyweight |
Nelson (23-14) enters the bout fresh off a decision win over Javy Ayala in his Bellator debut last September. The 41-year-old closed out his eight-year UFC run (he was housemates with Mitrione on TUF) by losing seven of his last 10 bouts. 
The one thing Nelson, known for his robust belly, mullet and unkept beard, has over Mitrione entering their rematch is a first-round TKO victory when the two met in 2012 in Las Vegas. Mitrione found success on his feet with overhand lefts and hard kicks, but succumbed to a right uppercut before being stopped in just under three minutes. 
From Mitrione's perspective, the loss spoke volumes of his inexperience in just his seventh pro fight (compared to 25th for Nelson). While Mitrione admits his personal life wasn't out of control from the perspective of partying or drugs, he hadn't yet learned what it took to acquire professional focus. 
"I think more than it was physical changes, I think it was life changes," Mitrione said. "I don't want to go into detail because I don't want to give excuses and take away from Roy beating me five years ago, but sometimes you go through some things and you're distracted. You don't have the focus you need to have in your life and I blame that a lot on my extracurricular activities.
"I have a much more focused life now. I have a routine and my life is in order. I feel that is going to be the difference. I had the tools to beat him back then but I wasn't as focused as I should have been. Roy's fighting style really doesn't change that much and mine has only getting better."
Nelson had a much simpler breakdown of how he was victorious in their first bout. 
"He punched me and kicked me and I punched him," Nelson said. "That was pretty much the fight. We punched each other a lot, but I hit him more times and hit him harder than he hit me."
The Bellator tournament kicked off on Jan. 20 when Sonnen defeated Jackson by decision and awaits the winner of Mir-Emelianenko on April 28 in Chicago. Meanwhile, the winner of Mitrione-Nelson II will face the winner of Bader's fight against Muhammed "King Mo" Lawal on May 12 in San Jose. 
Lawal, a co-host on the "In This Corner" MMA podcast, spoke of Mitrione's improvement from the first fight against Nelson. 
"He has evolved and is more patient in the cage," Lawal said. "He's more relaxed. You can tell he's a vet and doesn't waste his punches. He already has the physical tools but his evolution has been more mental. 
"If you look at that first fight, Mitrione was getting off on Roy and he was touching Roy up. He made the mistake of starting to back up to the cage and Roy gave him a three-punch combo and sat Matt down. If he can stay with his boxing and move the fight along, it's going to be a long night for Roy [on Friday]."
Prediction
When it comes to who Lawal hopes to face, his preference is Mitrione, largely because he's a longtime training partner and friend of Nelson. But he favors Mitrione on paper despite his weakness in wrestling and Nelson's powerful right hand, which works best against southpaws. 
"[Mitrione] has the power to get a knockout," Lawal said. "At heavyweight, all it takes is that one punch you don't see. Matt is a big dude and when you get older and stay in the game [like Nelson], your chin doesn't get stronger, it gets weaker. If you watch Roy fight, he doesn't move his head too much and he gets hit.
"I think that I want Roy to win but Matt is so dangerous. He's quick, athletic and is actually improving. Matt has improved more than Roy because he has more room to grow. He's confident and it's a rematch so I know he wants revenge."
Although Mitrione has retained his speed pushing 40 and Nelson has only slowed to a more one-dimensional style, what can't be overlooked is the vulnerabilities of Mitrione's chin. Not only was he dropped hard by Emelianenko last July before rallying to finish him, he was forced to do the same the previous year against Oli Thompson. 
Pick: Mitrione by unanimous decision.