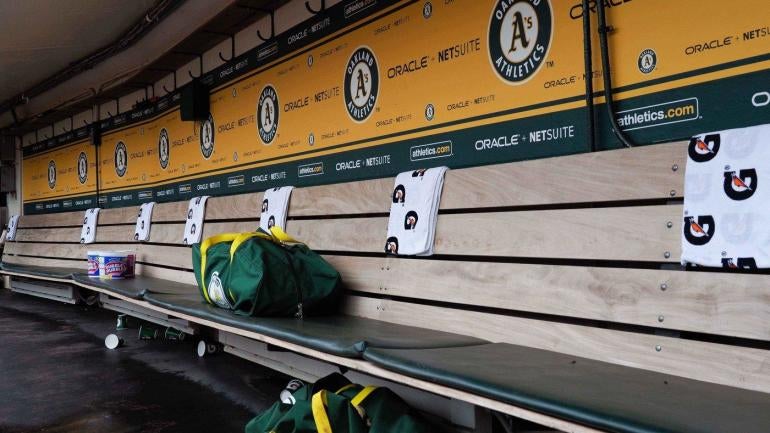 Last Wednesday, 17 people were killed in a shooting at Marjory Stoneman Douglas High School in Parkland, Florida. CBS News has more on the story. Stoneman Douglas alum Anthony Rizzo left the Cubs to give an emotional speech at the vigil last Friday.
Athletics prospect Jesus Luzardo, another Stoneman Douglas graduate, set up a You Caring page to helping to raise money for the family of athletic director Chris Hixon, who was killed in the shooting. Luzardo said Hixon "played a huge role in supporting my dreams of becoming a professional baseball player."
"I'm writing this with a heavy heart as Parkland is somewhere I have been lucky enough to call home for the past 18 years of my life," wrote Luzardo on the You Caring page. "It is a special place where I have made friendships that will last a lifetime and I have made memories that will forever be embedded in my mind. I made relationships with people that I now consider family.  
"It is so difficult to comprehend that some of these people now will not get to live on with their own families. I would not be where I am today if it were not for many of the students and faculty at Marjory Stoneman Douglas, these people molded me into who I am today.
"It is a tremendous community and a great school. Tragedies like this are always saddening but it hits you really hard when it happens to people that YOU grew up with, and that helped YOU develop into who you are. I want to do whatever I can to help these people and will be leading the charge to support this community through my charitable efforts."
Luzardo told Susan Slusser of the San Francisco Chronicle he was originally planning to be at Stoneman Douglas to work out the day of the shooting, before the baseball coach told him to stay away. From Slusser:
A's minor-leaguer Jesus Luzardo was planning to work out at his alma mater, Marjory Stoneman Douglas High School in Florida, on Wednesday when he got a chilling text from the baseball coach: "Don't come to campus today. There is an active shooter."

"It was pretty crazy," Luzardo said Saturday at the A's minor-league complex. "It just was like a normal day, I was actually supposed to be at the school right when school was ending because I was supposed to go throw, and then I got a text from my old coach not to show up, there was a shooter."

…

Luzardo then started texting other members of the school's current baseball team. "Some were telling me they were in closets, some were hearing gunshots," he said. "It was pretty tough." 
Luzardo, a 20-year-old left-handed pitcher, was originally drafted by the Nationals in 2016. He was traded to the A's in last year's Sean Doolittle/Ryan Madson deal. Baseball America ranks Luzardo as the fifth best prospect in Oakland's farm system.