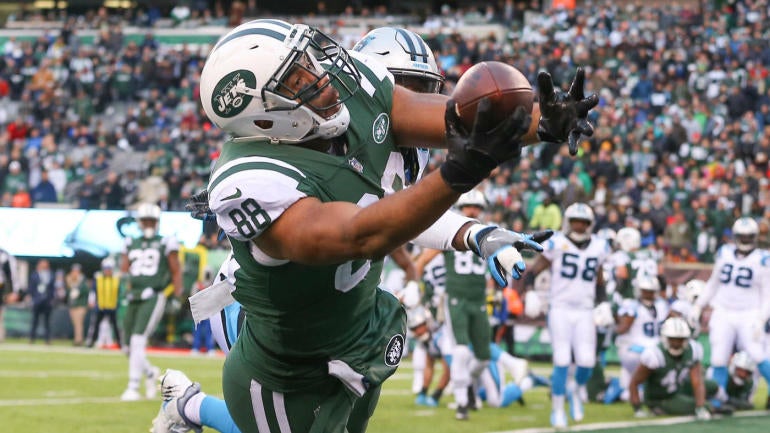 In a few weeks, NFL teams will be spending money at a dizzying rate, issuing contract after contract, many of which they will likely end up strongly reconsidering less than a year later. That is the nature of free agency in this sport, and that's not going to change.
And this year's class is particularly thin in terms of star power and difference-makers, especially once the franchise and transition tags are applied. Yes, it is an anomaly in terms of the number of starting quarterbacks available, but aside from that it may go down as the least sexy free-agency period in quite some time. But that's not to say it is bereft of talent, and there will surely be a handful of players who receive a modicum of hype but who quickly become great values for their new teams.
The best utilization of free agency is often in that second tier of players – those not setting the market at their position but falling in line a level or two below them in total compensation. They aren't all household names, but they can raise the overall level of play on their unit and help make others better and, in many cases, bring leadership and character to a new locker room. Some of these guys have already bounced around quite a bit and can make a transition to a new squad in a seamless manner – their reputations preceding them – while others will be changing teams for the first time, but have youth and upside on their side.
Here are 10 players, in no particular order, who I believe can make a difference for their next club in free agency, and do so without setting any spending records:
Savage has flashed enough to show he can play in this league and I still anticipate him getting an opportunity to win a starting job again at some point down the road. He fell victim to Bill O'Brien's quick hook in Houston this season and then had his season ended by a nasty concussion, but he showed he could run that offense and make some plays. Has a plenty big arm and if I am Baltimore, New Orleans or Arizona, among others, I want to bring him in as a young backup who could stabilize things as a starter should my guy get hurt. If I can get him on a multi-year deal, all the better.
Seferian-Jenkins has the size, frame and potential that should make teams drool and, with his sobriety now paramount, he gave the Jets plenty to think about last season as he emerged as a play-making tight end. He still has the ability to get unlocked more downfield and New York will continue to try to sign him before free agency. For good reason. You can have Jimmy Graham. Give me this younger, healthier, 6-foot-5 target at half the cost of what Graham has been making. I'll gamble on the potential.
The Ravens offensive line looked like it might sink their season, especially after All-Pro guard Marshal Yanda was lost for the season. Instead, it became a position of strength once Jensen emerged from a battle royale for the center spot to anchor the interior. Thrust into starting duty for the first time, and without stud guards to protect him, he more than held his own. Baltimore's run game took off and he fared well enough in pass protection for other teams to notice. Baltimore has lost quality offensive linemen to free agency with some regularity in recent years; Jensen could add to that list.
It wasn't that long ago that people were wondering about this kid's future, with injuries stalling Fuller's development. When he's been healthy, he's been a playmaker. It was obvious in his rookie season and it was on display with plenty of regularity in 2017. He was a big part of why the Bears' no-name defense fared so well, and no doubt coordinator Vic Fangio wants him back. While he won't come cheap by any stretch, given his high-end potential to be a true No. 1 corner, there could still be value for the team that signs him.
There isn't a better-liked guy in the league, there isn't a better veteran passer to put around a rookie and, in the AFC last season, until McCown's season-ending injury, there were only a few quarterbacks playing at a higher level. He's a big part of why the Jets – who some thought would go 0-16 – were still hanging around the playoff conversation in December, and I'd much rather take my chances with him, even at this stage of his career, for $8-$10M for 2018 than put a Mike Glennon or Brock Osweiler with some supposedly upstart QB at twice the price. Jacksonville or Arizona could make sense, maybe even Denver.
I've been waiting for several years for Moncrief to put it all together, and maybe it will never happen at this point. But I'd take a shot on him on a prove-it contract. Wait and see what Jarvis Landry and Mike Wallace get in free agency, let the market settle down and, if I am Baltimore, Cleveland or Buffalo, for instance, see what this kid can do outside  He's just 24, he had a very solid 2015 – his last full season – and given the Colts' upheaval at the quarterback spot in two seasons basically without Andrew Luck, I'll give a mulligan and see what he 6-2 pass catcher can do in my offense.
Graham's no spring chicken, but he does adapt as well as anyone in the game and brings rings and stewardship with him. He can still play nickel corner if you need him to, he transitioned to safety with the Eagles and he just keeps winning. He would be a great addition to a young secondary and while father time will catch him at some point, I'm not betting on it happening in 2018.
McDougald has been something of a journeyman the last few years, but I loved the way he played for the Seahawks and he brings versatility as well. If I can find a guy for a limited expenditure who can wear various hats if forced to do so when injuries invariably occur, that's what I'm prizing in free agency.
Richardson's speed is undeniable and he gives you an immediate spark in your return game and the potential to get behind any safety in the league. Yes, there are durability concerns and we'll see if he can turn himself into a receiver who can win all over the field. He lacks ideal size, but even if he turns out to be simply a deep-ball threat, it would make sense for any number of teams in the $7M a year range (while guys like Landry flirt with $16M). Maybe the Jets pair him with Kirk Cousins (given Robbie Anderson's legal trouble)?
An Achilles injury ended what was a very strong season a year ago in New Orleans, but Okafor's just 27 and given the dearth of pass-rush options, I don't think the injury will matter to some teams. This is exactly the kind of guy someone like Bill Belichick should take a shot on. You can't put a list like this together without trying to identity someone who can get to the quarterback without costing a boatload, and Okafor will have no shortage of suitors, yet can still turn out to be a bargain. That's where I want to do my free-agent shopping.