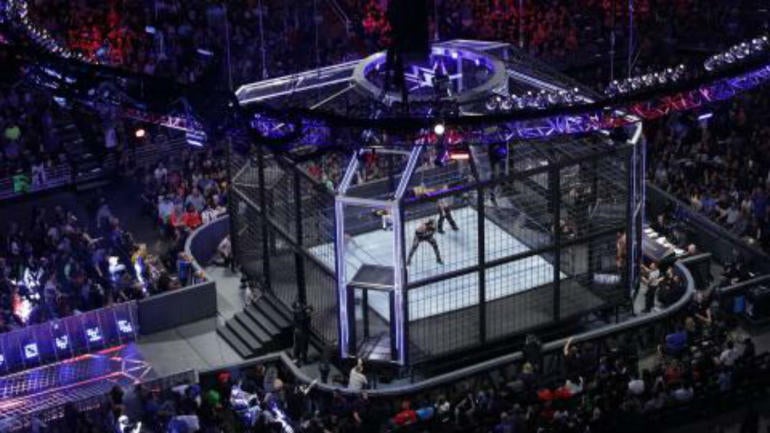 The Road to WrestleMania 34 is underway and no event will be bigger toward the build to the "Showcase of the Immortals" than the Raw brand's Elimination Chamber pay-per-view on Sunday, Feb. 25 in Las Vegas.
CBS Sports will be covering the big show live, but for now, let's take a look at how WWE next Raw PPV is shaping up in terms of matches and rumors. Don't worry, no spoilers here per se, just predictions as to how everything is going to shake out when all is said and done.
WWE Elimination Chamber matches
Men's Elimination Chamber — John Cena vs. Braun Strowman vs. Elias vs. Roman Reigns vs. The Miz vs. Finn Balor vs. Seth Rollins: This match will be contested for the No. 1 contendership to Brock Lesnar's universal championship. It will be the first Elimination Chamber match featuring seven competitors with what is likely to be three starting out in the ring to open the match. The Miz will be the first entrant with Elias entering last after winning a triple threat match against Cena and Strowman a few weeks ago on Raw.
Women's Championship — Elimination Chamber — Alexa Bliss (c) vs. Sasha Banks vs. Bayley vs. Mickie James vs. Mandy Rose vs. Sonya Deville: This match will be contested for Bliss' Raw women's championship with the winner going on to WrestleMania 34. Royal Rumble winner Asuka, who is on the Raw brand, has yet to decide which champion to challenge.
Ronda Rousey signs her Raw contract: It will be Rousey's first appearance in WWE since her surprise entrance at the Royal Rumble. She is supposed to become full-time after signing with Raw on Sunday, leading one to assume she will be on Raw the next night.
Asuka vs. Nia Jax: In a strange stipulation, Jax will be added to the Raw women's championship match at WrestleMania if she wins even though Asuka gets her choice of champion to challenge.
Matt Hardy vs. Bray Wyatt: This feud appears to be continuing, but it would not be a total shocker if it just comes to an end here at Chamber. We shall seen.
WWE Elimination Chamber predictions
The following matches are all projections based on current storylines.
Raw Tag Team Championship — The Bar (c) vs. Titus Worldwide: There was no clear challenger for Sheamus & Cesaro until Monday night when Titus O'Neil & Apollo once again one-upped the champions. It would be a surprise not to see this title match on the card.
Luke Gallows & Karl Anderson vs. The Revival: This secondary Raw storyline should work as a kickoff show match, one would think.