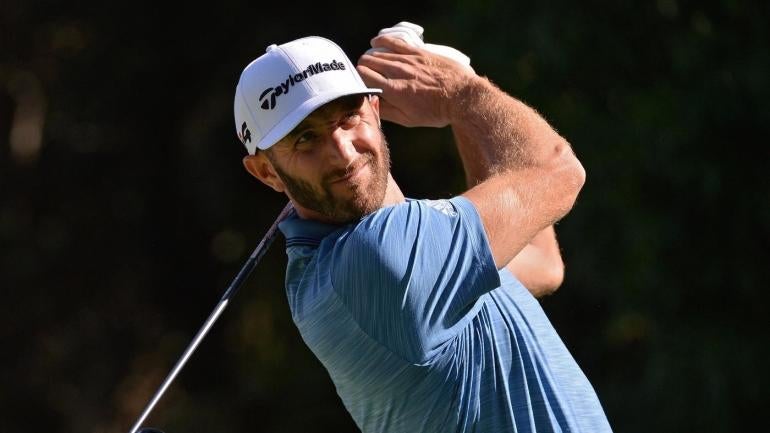 Bubba Watson (-10) leads the 2018 Genesis Open by one over Patrick Cantlay (-9) and two over a quartet of golfers at 8 under, including Graeme McDowell, Kevin Na, Cameron Smith and Tony Finau. Watson fired a 6-under 65 that followed a 68-70 start. The 65 tied for the second-lowest round of the week (more on the lowest in a minute) and put Watson in premium position to win this golf tournament for a third time in five years.
Moving day was bigger than just Bubba, though. Dustin Johnson (-6) went wild coming home, Justin Thomas (-6) and Phil Mickelson (-5) put themselves in position to do something special on Sunday and Jordan Spieth (-3) is hanging on by a thread. Riviera Country Club almost always produces something special, and the fireworks we'll get over the final 18 on Sunday should be no different.
Here are five takeaways from Round 3 on Saturday.
1. Dustin Johnson's big move: On Friday, through 27 holes of play, Dustin Johnson was 3 over and staring up at the cut line. So of course he played his next 27 in 9 under to get inside the top 10 with a legitimate chance now at defending his win at this event from last year.
D.J. strung together nine-hole scores of 33-35-29 to roll on up the leaderboard toward Bubba Watson and Co., and in the last two days he's shot a scorching 62 on the front nine of this course (his back nine on both days), which is obviously where he'll start on Sunday. Nobody has been better at Riviera over the last decade than D.J. has, and even with a triple bogey on the card, he's one of the favorites to lift another trophy on Sunday afternoon. 
2. Bubba Golf is a blast: Say what you want about Bubba Watson (and trust me, this is the internet, I've seen all the things you say about Bubba Watson), his game can be absolutely mesmerizing. It can also fall off the planet harder than a Francisco Liriano slider, but on Saturday it was working. 
Nobody has hit this many hooks in L.A. since Kareem Abdul Jabbar was manning the paint for the Lakers, and Watson had the putter rocking as well. He had just one bogey on Saturday compared to five birdies and an eagle, and now he gets the driver's seat for Sunday. 
Whatever happens, it's going to be a show.
3. Best of the contenders: Looking at Johnson and Thomas (both at -6) is obvious, but who of the crew just behind Watson has the best chance? To me, the ones with staying power include Cantlay (1 back) and Finau (2 back). I'm pretty deep into both of their camps, and they combined for just three holes worse than par on Saturday. If the putts fall on Sunday, either of these ball-strikers could sneak in and take the tournament. Finau was running at Watson off the tee all day on Saturday (which was a thrill), and certainly the way Cantlay ended Round 3 makes you think he could shut it down on Sunday.
4. Spieth is starting to putt: Uh oh, Jordan Spieth's putter is getting hot. The bad news for him is that his tee-to-green game left him this week, but Spieth is No. 9 in the field in strokes gained putting. He's T20 and likely won't win this week, but that's bad news for everyone trying to unseat him at Augusta National in a little under two months from now.
5. Inverse of 2014? In 2014, Bubba Watson won the Masters. But first he won the Genesis Open with a pair of 64s on the weekend. The golfer who finished second that week by two strokes was Dustin Johnson. D.J. has a chance to repay the favor with his own dueling 64s this weekend to upset Watson's fun NBA All-Star weekend and take home yet another trophy on his march to 20 and beyond. Sunday is going to rock, just as we thought Riviera would, and those two should be in the thick of it.